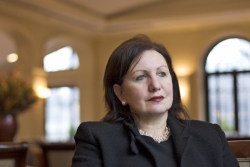 Seyla Benhabib, born in Istanbul, Turkey, is the Eugene Meyer Professor of Political Science and Philosophy at Yale University and was Director of its Program in Ethics, Politics and Economics from 2002 to 2008. She was the President of the Eastern Division of the American Philosophical Association in 2006-07 and has been a member of the American Academy of Arts and Sciences since 1995.  She has previously taught at the New School for Social Research and Harvard Universities, where she was Professor of Government from 1993-2000 and Chair of Harvard's Program on Social Studies from 1996-2000.
She has been Adjunct Faculty in Law at the Yale Law School since 2007 for a total of seven terms, co-teaching courses on human rights, sovereignty, cosmopolitanism and European legal debates on citizenship and migration with Professors Robert Post and Alec Stone Sweet.  She has also held a Visiting Professorship of Law at the University of Tel-Aviv's Zvi Meitar Center for Advanced Studies Legal Studies (2010).
Professor Benhabib is the recipient of the Ernst Bloch prize for 2009, the Leopold Lucas Prize from the Theological Faculty of the University of Tubingen (2012), and the Meister Eckhart Prize (2014; one of Germany's most prestigious philosophical prizes). A Guggenheim Fellowship recipient (2011-12), she has been research affiliate and senior scholar in many institutions in the US and in Europe such as Berlin's Wissenschaftkolleg (2009), NYU's Strauss Center for Advanced Studies in Law and Justice (2012) and the European University Institute in Florence (Summer 2015).
Her work has been translated into German, Spanish, French, Italian, Turkish, Swedish, Russian, Serbo-Croatian, Hebrew, Polish, Japanese and Chinese and she has also edited and coedited 10 volumes on topics ranging from democracy and difference to the rights of migrant women and children; the communicative ethics controversy and Hannah Arendt. Her volume, Migrations and Mobilities: Gender, Borders and Citizenship (NYU Press, 2009), edited with Judith Resnik from the Yale Law School, has been named by Choice one of the outstanding academic books of the year.
Professor Benhabib holds Honorary Degrees from the Universities of Utrecht (2004), Valencia University (2010), Bogazici (2012) and Georgetown Universities (2014).
During her residency as Senior Fellow in CCCCT in 2016 and 2017, she has completed a new book called "Playing Chess with History. Exile, Migration and Statelessness from Hannah Arendt to Isaiah Berlin." (Forthcoming Princeton University Press.)
Her new project is called, "The New Sovereigntism and Transnational Law. Legal Utopianism and Democratic Skepticism."
This book will examine the contemporary debate about the spread of transnational law and its sovereigntist critiques. Sovereigntists argue that the rapid development of international and transnational treaties and the emergence of regional human rights courts such as the ECtHR undermine sovereignty and thus pose a threat to democratic self-determination. I criticize the new sovereigntism and argue that transnational human rights strengthen rather than weaken democratic sovereignty, and name processes through which rights-norms are contextualized in polities 'democratic iterations.' I develop the 'authorship model of democratic legitimacy' in order to show how constitutional rights and international human rights can be understood to be in harmony and dissonance with one another. The challenge is to think beyond the binarism of the cosmopolitan versus the civic republican; democratic versus the international and transnational; democratic sovereignty versus human rights law. Distinguishing between state sovereignty and popular sovereignty enables us to do so. By constraining certain sovereign powers of the state, international human rights regimes and courts can enhance popular sovereignty in that they strengthen the rights of the marginalized and the excluded.
Case studies include discussions of the Alien Tort Statute in U.S. courts from the standpoint of the development of international human rights norms ; the Hirst v. the United Kingdom recently adjudicated by the ECtHR, concerning prisoner enfranchisement rights, and the evolution of Turkish citizenship, residency and migration law in interaction with international and transnational legal instruments.