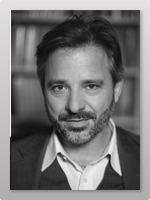 Mikhaïl Xifaras has been Professor of Public Law at Sciences Po since September 2008, where he teaches legal philosophy, property and jurisprudence. He has been a Visiting Professor at Harvard Law school from 2011 to 2016 and at Keio Law School in Japan (since 2012).
He passed the agrégation de l'enseignement supérieur in Public Law in 2004, the agrégation in Philosophy in 1993, and holds a Doctorate in Philosophy from Besançon in 2001. He graduated from the Ecole Normale Supérieure of Fontenay-Saint Cloud in 1990.
Before joining the Sciences Po faculty, he was Professor of Public Law at the Université d'Orléans. He was nominated Junior Member of the Institut Universitaire de France (2006-2011), and has been awarded the the Prix Ouverture Internationale of the Université Libre de Bruxelles (Brussels, 2003), as well as a Marie-Curie Grant from the European Commission (2003). He was a Visiting Fellow at Harvard Law School on a Fulbright Scholarship (2000), and the winner of a Fondation Thiers Grant (1999).