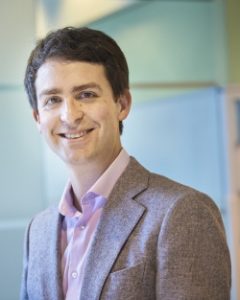 Noah Smith-Drelich joined the faculty at Chicago-Kent College of Law in 2020 as an assistant professor of law. His scholarship focuses on how our understanding of tort law informs the operation of both substantive law and procedure throughout the tort system. Smith-Drelich also writes in the area of public health and health policy, with an emphasis on food taxes. His articles have been published, or are forthcoming, in the Southern California Law Review, Indiana Law Journal, Public Health Nutrition (Cambridge University Press), and Loyola of Los Angeles Law Review.
Smith-Drelich comes to Chicago-Kent from Columbia Law School, where he was an academic fellow, and the J. Reuben Clark Law School at Brigham Young University, where he was a visiting scholar. Before entering academia, Smith-Drelich was a staff attorney for the American Civil Liberties Union's North Dakota, South Dakota, and Wyoming affiliate, and he continues to actively pursue civil rights and civil liberties impact litigation; he is currently lead counsel on Thunderhawk v. County of Morton, a putative class action lawsuit challenging police abuses related to the Standing Rock-led resistance to the Dakota Access Pipeline.
Smith-Drelich was a law clerk to Judge Edmond E. Chang of the Northern District of Illinois and Judge Jay S. Bybee of the Ninth Circuit Court of Appeals. He also worked as an attorney at the litigation boutique Korein Tillery from 2014–2017.
He is a graduate of Stanford Law School, where he was an articles editor on the Stanford Law Review and the editor-in-chief of the Stanford Law & Policy Review. Smith-Drelich holds an M.S. in environment and natural resources (health and the human environment) from Stanford University and a B.A. from Williams College.