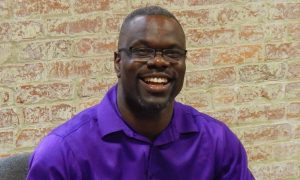 At age 13, Ian Manuel was sentenced to life in prison without the possibility of parole for attempted murder after his participation in a botched robbery. Manuel served 26 years in prison until Bryan Stevenson's Equal Justice Initiative secured his release in 2016, 18 of which (starting at age 15) were in solitary confinement. While incarcerated, Manuel began writing poetry, which he credits for keeping him sane and giving him hope, and he also befriended his victim, who is now one of his closest friends and fiercest advocates. In his powerful and moving lectures, Manuel shares the story of his crime and discusses his experience with the US criminal justice system, his poetry, and what justice and redemption really mean.
Growing up in one of the toughest neighborhoods in Tampa in the era of the "super-predator," Ian Manuel began stealing cars at age 11, and at age 13, committed the crime for which he would be sentenced to die to prison. In the course of a botched mugging, and at the direction of several older boys, he shot a white woman in the jaw. After turning himself in and pleading guilty, Manuel became one of the 73 children identified by the Equal Justice Initiative who have been sentenced to life in prison without the possibility of parole in the United States—the only country in the world known to issue sentences of this kind to children.
While incarcerated, Manuel reached out to his victim, Debbie Baigrie. While Baigrie was initially reluctant to speak with him, eventually the two began a correspondence and became close friends, with Baigrie eventually petitioning for Manuel's release. Manuel had been a promising student in school, and after discovering spoken word poetry on a PBS program he began to write his own poetry to reckon with his crime and to make sense of his experience, with Baigrie's encouragement.
The Equal Justice Initiative, led by America's greatest contemporary legal activist Bryan Stevenson, succeeded in vacating Manuel's sentence in 2010, and he was released in 2016. Now a free man, Manuel is a fierce advocate for criminal justice reform and for the reintegration of those who have recently been released from prison. He speaks at schools and social organizations across the country about the story of his crime, his experience with the criminal justice system, and the moral urgency of emphasizing rehabilitation over retribution.
Manuel's story is featured in Stevenson's memoir, Just Mercy, as well as Nicholas Kristof's recent book, Tightrope. In his upcoming memoir, My Time Will Come: A Memoir of Crime, Punishment, Hope, and Redemption, Manuel takes readers through his equally wrenching and inspiring story, from his upbringing as a poor Black kid from Florida, to the violent incident that changed the trajectory of his life, to the story of his redemption. With a foreword by Equal Justice Initiative founder Bryan Stevenson, Manuel's memoir leaves a powerful impact and emphasizes the strength of human resolve and kindness through the most upsetting circumstances.
Manuel performs spoken word poetry and was a 2017 MacDowell Fellow for nonfiction literature. He appeared on Starbucks' "Upstanders," a video series that shares stories about ordinary people doing extraordinary things to create positive change. He lives in New York City.