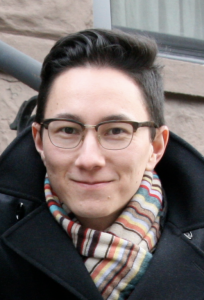 Ethan Heard directs plays, musicals, and opera, ranging from new work to Shakespeare, Sondheim to Monteverdi. He is Founding Co-Artistic Director of Heartbeat Opera and also teaches acting and directing at Yale School of Drama, Yale Institute of Sacred Music, and Princeton University's Lewis Center for the Arts. He is the director of Breathing Free.
With Heartbeat, Ethan has directed Lady M: an online fantasia of Verdi's Macbeth, La Susanna (a co-production with Opera Lafayette at the Kennedy Center and BAM), Fidelio, Butterfly, Dido & Aeneas, Kafka-Fragments, The Seven Deadly Sins, and the original drag-opera-extravaganzas Hot Mama: Singing Gays Saving Gaia, Dragus Maximus: a homersexual opera odyssey, All the World's a Drag! Shakespeare in love…with opera, Queens of the Night: Mozart in Space, Miss Handel, and The Fairy Queen. These productions have been called "urgent and powerful" (The New York Times), "relevant and heartbreaking" (The New Yorker), "high brow and brilliant" (New York Magazine), and "incisive and inspired" (Opera News). Other opera includes the world premieres of Rene Orth and Mark Campbell's Empty the House (Curtis Institute of Music) and Jason Cady, Aaron Siegel and Matthew Welch's Sisyphus (Experiments in Opera), Erismena and L'Orfeo (Yale Baroque Opera Project), L'incoronazione di Poppea (Princeton University), and Pierrot Lunaire (Yale Cabaret).
Recent musical theater includes: Mel Marvin and Jonathan Levi's Truth & Reconciliation, Marisa Michelson's Desire|Divinity Project, Little Shop of Horrors (nominated for five Berkshire Theatre Awards including Outstanding Direction), Bells Are Ringing starring Kate Baldwin, A Little Night Music starring Kate Baldwin, Gregg Edelman, and Phillipa Soo (Berkshire Theatre Group), the world premiere of Mark Campbell and Marisa Michelson's The Other Room (Inner Voices), Sunday in the Park with George (Yale School of Drama), Merrily We Roll Along (Yale Dramat), Next to Normal, Into the Woods, and The Producers (Princeton). Ethan remounted The Secret, Jay Chou's jukebox musical, for John Rando and Broadway Asia in Shanghai.
Plays include: Will Eno's Middletown (The New School), Megan Loughran and Alex Trow's F Theory (NJ Rep), Dorothy Fortenberry's Partners (American Academy of Dramatic Arts), and Amelia Roper's Lottie in the Late Afternoon, MJ Kaufman's Eligible Receivers, and Shakespeare's Julius Caesar (YSD).
While earning his MFA at Yale School of Drama, Ethan served as Artistic Director of Yale Cabaret, where he launched the tradition of Yale School of Drag, which continues today. He received his BA in Theater Studies from Yale College and won the Sledge Prize for Performing Arts. He toured the world with the Yale Whiffenpoofs, singing more than 200 concerts in 25 countries. He assisted Thomas Kail, Nicholas Martin,  John Guare, Steve Cosson, Mark Brokaw, Gilbert Blin, and Annette Jolles at Williamstown, The Public, Boston Early Music Festival, Avery Fisher Hall, Yale Institute of Musical Theater, and NYMF. He has also taught at The O'Neill Theater Center and The New School.
Ethan is Chinese-American, proficient in Mandarin, and a proud member of the Stage Directors and Choreographers Society.