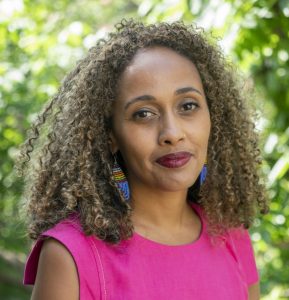 Alexis Hoag is the inaugural Practitioner-in-Residence at the Eric H. Holder Jr. Initiative for Civil and Political Rights. She spent over a decade as a civil rights and criminal defense lawyer, primarily representing capitally convicted clients in federal post-conviction proceedings. Hoag co-teaches Abolition: A Social Justice Practicum, leads the Capital Post-Conviction Defense Practicum, and facilitates a critical reading group on social justice lawyering. Her scholarship interests include racism's impact on the criminal legal system, capital punishment, and jury service and selection.
Prior to the Holder Initiative, Hoag served as Senior Counsel at the NAACP Legal Defense and Educational Fund, Inc. ("LDF"), where she represented clients in a variety of civil and criminal matters, including Davis, et al. v. City of New York and New York City Housing Authority, a federal class action lawsuit seeking systemic reform of the New York City Police Department's discriminatory practices against Black and Latinx public housing residents and guests. Hoag supervised LDF's parole advocacy in Mississippi on behalf of young people formerly sentenced to life without the possibility of parole. She also captained LDF's Prepared to Vote efforts in Alabama and Missouri.
Hoag has authored amicus curiae briefs before the U.S. Supreme Court and state supreme courts on behalf of capitally convicted individuals challenging their sentences due to racial discrimination. She also serves on the editorial board of the Amicus Journal, a publication reporting on worldwide capital punishment issues, and on the capital punishment committee of the New York City Bar Association.
Prior to LDF, Hoag served eight years in the Office of the Federal Public Defender for the Middle District of Tennessee as an Assistant Federal Public Defender, where she represented death-sentenced individuals in federal habeas and related state court proceedings. She clerked for The Honorable John T. Nixon of the United State District Court for the Middle District of Tennessee.
Hoag graduated from Yale College and NYU School of Law, where she was a Derrick Bell Public Interest Scholar and an editor on the Review of Law and Social Change. She is a member of the New York and Tennessee state bars and continues to represent a client sentenced to death in federal court.