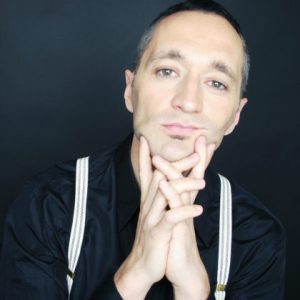 A singer and composer of eclectic tastes and prodigious gifts, Grammy-nominated Theo Bleckmann makes music that is accessibly sophisticated, unsentimentally emotional, and seriously playful. Bleckmann has released a series of albums on Winter & Winter, including recordings of Las Vegas standards, Weimar art songs, and popular "bar songs" (all with pianist Fumio Yasuda); a recording of newly arranged songs by Charles Ives (with the improvisational jazz/funk collective Kneebody); Solos for Voice and Toys, where Bleckmann brought his stunning vocal technique and suitcase of oddly evocative voice-altering gadgets to the project of recording delicate songs and poems alone at a monastery in the Swiss Alps. Bleckmann took on the songbook of the British pop recluse Kate Bush in Hello Earth! The Music of Kate Bush, released in the U.S. in 2012 to great critical acclaim. A new album entitled Mother Goose Melodies(Winter & Winter) was released in the spring of 2013.
In addition to his work as a soloist, Bleckmann loves to mix it up with other musicians. He maintains an ongoing creative relationship with guitar phenomenon Ben Monder, wreaking beautiful havoc with standard expectations of jazz and rock. With John Hollenbeck and Gary Versace, he makes up Refuge Trio, exploring the work of popular singer-songwriters as well as generating provocative original work. With singers Peter Eldridge, Kate McGarry, Lauren Kinhan, and Luciana Souza, he forms Moss, a collective that plays in the sandbox of jazz, folk, and rock, building new compositions for voices. Bleckmann has also collaborated with contemporary musicians and composers such as Laurie Anderson, Uri Caine, Philip Glass, Sheila Jordan, Michael Tilson Thomas, Kenny Wheeler, John Zorn, the Bang on a Can All-Stars, and Meredith Monk, with whom Bleckmann worked as a core ensemble member for 15 years. His voice has also inspired compositions by, among others, Michael Gordon, David Lang, Ikue Mori, Kirk Nurock, Julia Wolfe, and Phil Kline, who wrote three major song cycles for him: Zippo Songs (2004), Locus Solus (2006) and Out Cold (2012), which was premiered at BAM in 2012.
Bleckmann has composed for a range of instruments, from piano, violin, and kalimba to chimes, Glockenspiel, toy microphone, and sewing machines, setting exquisite poems by Rumi, Emily Dickinson, and Kurt Schwitters, as well as building ineffable soundscapes with just his voice and a loop pedal. Most recently he presented an evening of original work for voice and the JACK String Quartet, commissioned by the Slought Foundation.
Bleckmann's taste for risk-taking, coupled with rigorous technique, is clear in his extraordinary skill as a sound improviser—an ability remarkable enough that he was commissioned to create the space alien language in Steven Spielberg's Men in Black. Bleckmann's thoughtfulness and articulateness about music and performance have led to a Fresh Air interview with Terry Gross and an article on vocal technique solicited for John Zorn's Arcana series. Bleckmann's extravagantly beautiful work has been described as "from another planet" (New York Times), "magical, futuristic" (AllAboutJazz), "limitless" (Citypaper, Philadelphia) "transcendent" (Village Voice), and "brilliant" (New York), and left one critic wondering, "does he eat people food?" (AllAboutJazz). Recent accolades include NPR's 2012 Top 10 Jazz Albums of the Year for Hello Earth! The Songs of Kate Bush, third place for Best Vocalist in the 2012 Rhapsody Poll of 119 critics (formerly hosted by the Village Voice), Boston Phoenix's "Best Jazz Acts" of 2012 for Hello Earth! The Songs of Kate Bush, and WQXR's Operavore "Best Opera of 2012" for Out Cold by Phil Kline. In 2010, Bleckmann received the JAZZ ECHO award from the Deutsche Phono-Akademie in his native Germany and also appeared on the David Letterman show with Laurie Anderson.