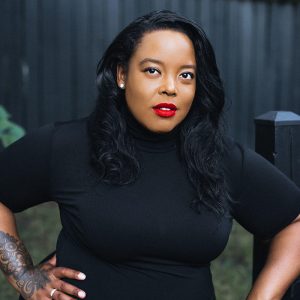 Stephanie Jones-Rogers's research focuses primarily upon gender and American slavery, but she is equally fascinated with colonial and 19th century legal and economic history, especially as it pertains to women, systems of bondage, and the slave trade.
Her first book, They Were Her Property: White Women as Slave Owners in the American South(link is external), is a regional study that draws upon formerly enslaved people's testimony to dramatically reshape current understandings of white women's economic relationships to slavery. The book is based on her revised dissertation, which won the Organization of American Historians' 2013 Lerner-Scott Prize for the best doctoral dissertation in U.S. women's history. They Were Her Property foregrounds the testimony of enslaved and formerly enslaved people and puts their reflections into conversation with other narrative sources, legal documents, and financial records in order to show how white women's pecuniary investments in the institution shaped their gender identities and to situate them at the center of 19th century America's most significant and devastating system of economic exchange. As a whole, this book offers more expansive and differently gendered understandings of American slavery, the trans-regional domestic slave trade, and nineteenth-century slave markets.
They Were Her Property won the Southern Association for Women's Historians 2020 Julia Cherry Spruill Prize awarded for the best book in southern women's history, the Southern Historical Association's 2020 Charles S. Sydnor Award, which is awarded for the best book in southern history published in an odd-numbered year, the Society for Historians of the Early American Republic's 2020 Best Book Prize, the Organization of American Historians' 2020 Merle Curti Prize for the best book in American social history, and the Los Angeles Times Book Prize in History. She is the first African-American and the third woman to win this award since it's inception in 1980. They Were Her Property is also a finalist for the 2020 Frederick Douglass Book Prize from the Gilder Lehrman Center for the Study of Slavery, Resistance, and Abolition and the Lapidus Center for the Historical Analysis of Transatlantic Slavery 2020 Harriet Tubman Book Prize.
She is currently at work on a few new projects. Her second book Women of the Trade (under contract with Liveright) reorients our understanding of the British Atlantic slave trade by centering the lives and experiences of English, African, and Afro-English women, free and captive, in its telling. Organized like the typical slave ship journey, Women of the Trade crafts a narrative about the British slave trade in which English and African women were fundamental, one wherein their financial investments and support, their strategies and political maneuvering, their labor and commercial savvy, their love, and their resistance proved crucial. Her third Women, American Slavery, and the Law (also under contract with Liveright) will be the first book-length manuscript to examine the relationship between gender and the evolution of American slave/property law in both the North and the South from the colonial period to slavery's legal end. It considers how the gradual abolition of slavery in the North affected free women's lives, especially those who owned enslaved people. It also examines the relationship between the expansion of slavery into the West and the implementation of laws that protected married women's property rights, particularly those living in newly formed states in which slavery would become economically fundamental. More profoundly, it explores how slave-owning women's actions—particularly their demands that local and state courts recognize their rights to hold enslaved people in bondage—shaped the legal transformations that unfolded in both regions. And her study "She had…a Womb Subjected to Bondage": The Afro-Atlantic Origins of British Colonial Descent Law examines the ways that West African customs and laws influenced English thinking about matrilineal descent and may have influenced their decisions to implement matrilineal descent laws in their North American colonies.