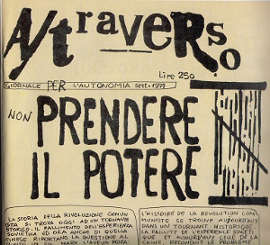 Francesco Guercio (PhD,  The European Graduate School) has produced a brilliant annotated English translation of the first notebook of A/Traverso, Notebook #1 (October 1975), Part 1/4.
This remarkable translation is from a very rare original copy of the A/Traverso notebooks, practically impossible to find anymore, that a researcher, Luca Chiurchiù, kindly shared with the CCCCT.
It is in these texts that the concept of mao-dadaism was first introduced and described. These texts are electrifying and, as you will see, sound incredibly contemporary. These translations represent a real patrimony for the non-Italian speaking readers interested in mao-dadaism and Italy circa '77.
The A/Traverso notebooks form part of the basis of Claire Fontaine's essay, 1977: The Year That Is Never Commemorated.
Join us on October 5, 2017 for Uprising 2/13!