Malcolm Gladwell, author
April 26, 2018
 Riverside Church, New York
In this final session of Uprising 13/13, we explore "counterrevolutions" in relation to all the other modalities of revolt and resistance that we studied over the course of the 2017-2018 year–from Maoist insurgencies and Gandhian Satyagraha, to political disobedience, #BlackLivesMatter, the Arab Uprisings, and Standing Rock.
There have been a lot of discussions, art exhibits, documentaries, and programs about uprisings these past few years, and many commemorations of May '68 this month, but throughout all of these celebrations, we rarely discuss or analyze the counterrevolution as a distinct form of uprising. This is our chance. This is our task. The idea is to explore whether counterrevolutions are different or similar to those other forms of uprisings, how they are connected (or not) to other modalities of revolt, and what exactly is meant by the term "counterrevolution."
By way of provocation, it might be that today, in this country, the Counterrevolution is in fact modeled precisely on uprisings from the mid-twentieth century. Today's Counterrevolution in the United States may bear stark similarities to a modalities of revolt we've already studied—especially Maoist insurrection. It may be its mirror image.Perhaps this is no coincidence. The French commanders who developed modern warfare in the 1950s did so in direct response to Maoist insurgencies in Indochina, and they did so by appropriating Maoist strategy and thought—as did American commanders struggling against the Vietcong in Vietnam. The texture of the Counterrevolution today is Maoist. Paradoxically, that may be the lasting legacy of May '68.
Welcome to Uprising 13/13!
[Read full post here. © Bernard E. Harcourt]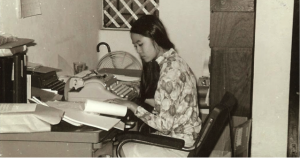 "Mai Elliott, working in the RAND villa on Rue Pasteur. The windows are taped to prevent the glass from shattering in case of an explosion from a mortar round." — Gladwell, Saigon 1965
~ ~ ~
Karen Greenberg (author of Rogue Justice)
Samuel Moyn (author of Not Enough)
May 1, 2018, at 7pm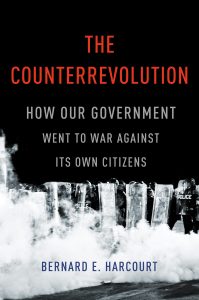 A conversation at BookCulture with Karen Greenberg (Director of the Center on National Security at Fordham University), Bernard E. Harcourt (author of The Counterrevolution), Samuel Moyn (author of Not Enough), and Tamsin Shaw (New York Review of Books author and professor at NYU) on our current domestic and international political condition, timed to the release of The Counterrevolution: How Our Government Went to War Against Its Own Citizens (Basic Books, 2018)