By Emily Gruber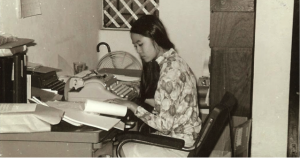 "Mai Elliott, working in the RAND villa on Rue Pasteur. The windows are taped to prevent the glass from shattering in case of an explosion from a mortar round." Gladwell, Saigon 1965
Related Readings Authored By Panelists
Malcolm Gladwell
"In the early 1960s, the Pentagon set up a top-secret research project in an old villa in downtown Saigon. The task? To interview captured North Vietnamese soldiers and guerrillas in order to measure their morale: Was the relentless U.S. bombing pushing them to the brink of capitulation?"
"Saigon, 1965 is the story of three people who got caught up in that effort: a young Vietnamese woman, a refugee from Nazi Germany, and a brilliant Russian émigré. All saw the same things. All reached different conclusions. The Pentagon effort, run by the Rand Corporation, was one of the most ambitious studies of enemy combatants ever conducted—and no one could agree on what it meant."
Bernard E. Harcourt
More information here: https://bernardharcourt.com/the-counterrevolution/
"But the transition from large-scale battlefield warfare to anti-colonial struggles and now to the war against terrorism brought about a historic transformation in the way that we govern in the United States. Variously called unconventional, anti-guerilla, or modern warfare, this new prototype of counterinsurgency war is the very opposite of large-scale battlefield encounters: It involves strategic, surgical operations, total information awareness, targeted elimination of a radical minority, psychological techniques, and political savvy to gain the trust of the general population. The target is no longer an enemy army, so much as it is an internal enemy. It involves a new way of thinking about war, and politics, that gradually has come to dominate the American public imagination."
Bernard E. Harcourt. Against Prediction: Profiling, Policing, and Punishing in an Actuarial Age (2007).
Abstract included below:
"From random security checks at airports to the use of risk assessment in sentencing, actuarial methods are being used more than ever to determine whom law enforcement officials target and punish. And with the exception of racial profiling on our highways and streets, most people favor these methods because they believe they are a more cost-effective way to fight crime. This book challenges this growing reliance on actuarial methods. These prediction tools, the author demonstrates, may in fact increase the overall amount of crime in society, depending on the relative responsiveness of the profiled populations to heightened security. They may also aggravate the difficulties that minorities already have obtaining work, education, and a better quality of life—thus perpetuating the pattern of criminal behavior. Ultimately, the author shows how the perceived success of actuarial methods has begun to distort our very conception of just punishment and to obscure alternate visions of social order. In place of the actuarial, he proposes instead a turn to randomization in punishment and policing, concluding that the presumption should be against prediction."
Laleh Khalili
Laleh Khalili. "The Roads to Power: The Infrastructure of Counterinsurgency." World Policy Journal 34: 93-99 (2017). https://eprints.soas.ac.uk/23856/.
"Most of today's wars are neither the pitched battles of the Napoleonic era nor colonial invasions. This is an age of counterinsurgencies, yet these 'small wars' nearly always require large infrastructure investments"
"I argue that the counterinsurgents' notion of the population's happiness is ultimately a projection of a fantasy generated at the intersection of several overlapping fields of practice: a managerial and technocentric militarism that counterinsurgency disavows but which indelibly marks it, a "cultural" or ethnographic form of military administration that both implicitly and intentionally revivifies the precepts of colonial and imperial administration, and a Utilitarian understanding of happiness currently hegemonic in the United States" (25).
Laleh Khalili. Time in the Shadows: Confinement in Counterinsurgencies (Stanford:2013).
Ebook available through Columbia CLIO: https://clio.columbia.edu/quicksearch?q=Time+in+the+Shadows%3A+Confinement+in+Counterinsurgencies&commit=Search.
Read Introduction and Conclusion on Uprising 13/13 website.
Massimiliano Tomba
Massimiliano Tomba. "Politics beyond the state: The 1918 Soviet Constitution." Constellations: An International Journal of Critical and Democratic Theory24, no. 4 (December 2017). https://onlinelibrary.wiley.com/doi/full/10.1111/1467-8675.12327.
"The 1918 Russian "Declaration of Rights of the Working and Oppressed People" and the first Soviet Constitution expressed an alternative political and economic trajectory, which was definitively crushed by Stalin's 1936 Constitution. From the modern perspective of constitutionalism, the first Russian Constitution contains numerous anomalies that, strictly speaking, make it difficult to describe the Russian Socialist Federated Soviet Republic as a state in the modern sense of the term. Among these anomalies are the dismantling of the national state by the universal distribution of power by local soviets; the anticolonial and antinational conception of citizenship, which could be conferred upon foreign workers by any local soviets; and an alternative practice of property relations different from both private and collective state property and rooted in the traditional communal possession of land."
Emmanuelle Saada
 Emmanuelle Saada. "The Empire of Law: Dignity, Prestige, and Damnation in the 'Colonial Situation.'" French Politics, Culture, & Society 20, no. 2 (Summer 2002): 98-120. https://www.jstor.org/stable/42843234.
"The insistence on the triad of 'dignity,' 'prestige,' and 'domination' by colonial administrators and by some members of the indigenous elite obliges us to reconsider — or at least in some respects — the view of the colonial state presented in much recent historiography" (98);.
Additional related readings in chronological order of publication:
Bruce Hoffman. "Counter-Insurgency in the Modern Age: An Interview with Professor Bruce Hoffman." Harvard International Review (February 19, 2016). https://hir.harvard.edu/article/?a=12771.
This article compares ISIS and Al-Qaeda and seeks to answer the question, "if ISIS is using more sophisticated social media and other digital methods, what does the subsequent counter-insurgency look like?"
"The empowerment of violence is very much a theme that they have effectively harnessed by marrying it with social media, so, they're using an old theme but with cutting-edge 21st century technology."
U.S. Immigration and Customs Enforcement. Fiscal Year 2017 ICE Enforcement and Removal Operations Report (December 13, 2017). https://www.ice.gov/removal-statistics/2017.
"The FY2017 statistics clearly demonstrate ICE's continued commitment to identifying, arresting, and removing aliens who are in violation of U.S. law, particularly those posing a public safety or national security threat, while restoring fidelity to the rule of law. In FY2017, ICE ERO conducted 143,470 overall administrative arrests, which is the highest number of administrative arrests over the past three fiscal years. Of these arrests, 92 percent had a criminal conviction, a pending criminal charge, were an ICE fugitive or were processed with a reinstated final order. In FY2017, ICE conducted 226,119 removals. While this is a slight overall decrease from the prior fiscal year, the proportion of removals resulting from ICE arrests increased from 65,332, or 27 percent of total removals in FY2016 to 81,603, or 36 percent of total removals, in FY2017.  These results clearly demonstrate profound, positive impact of the EO. The 17 percent decrease in border removals shows the deterrent effect of strong interior enforcement, while the increase in interior removals restores the integrity of our nation's immigration system and enhances the safety and security of the United States."
"The Department of Homeland Security has been capitalizing on the availability of social media data, asking foreign visitors for their social media handles."
"ICE notifiedcontractors in July that it was in the market for an automated system to determine who will contribute to society and who intends to do the country harm. The winning company will be required to continuously monitor a breathtakingly wide range of online data: "media, blogs, public hearings, conferences, academic websites, social media websites such as Twitter, Facebook, and LinkedIn, radio, television, press, geospatial sources, Internet sites, and specialized publications.""
"As a group of more than 50 civil society organizations pointed out to DHS in a letterreleased in November, it is likely to be custom-built for discrimination."
Rosa Brooks. How Everything Became War and the Military Became Everything: TAles from the Pentagon (2016).
An excerpt from Simon & Schuster's summary of this text is included below:
" Once, war was a temporary state of affairs—a violent but brief interlude between times of peace. Today, America's wars are everywhere and forever: our enemies change constantly and rarely wear uniforms, and virtually anything can become a weapon. As war expands, so does the role of the US military. Today, military personnel don't just "kill people and break stuff." Instead, they analyze computer code, train Afghan judges, build Ebola isolation wards, eavesdrop on electronic communications, develop soap operas, and patrol for pirates. You name it, the military does it.
"Rosa Brooks traces this seismic shift in how America wages war from an unconventional perspective—that of a former top Pentagon official who is the daughter of two anti-war protesters and a human rights activist married to an Army Green Beret. Her experiences lead her to an urgent warning: When the boundaries around war disappear, we risk destroying America's founding values and the laws and institutions we've built—and undermining the international rules and organizations that keep our world from sliding towards chaos. If Russia and China have recently grown bolder in their foreign adventures, it's no accident; US precedents have paved the way for the increasingly unconstrained use of military power by states around the globe. Meanwhile, we continue to pile new tasks onto the military, making it increasingly ill-prepared for the threats America will face in the years to come."