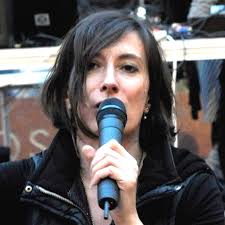 Founder of projects like Xnet and 15MpaRato, which led to the trial of the chief executives of Bankia—ranked as the fifth bank in Spain—Levi organises platforms in order to bring corruption to light and to unmask those who are politically responsible for the economic injustices in Spain and Europe.Levi is a prominent participant in the 15-M (anti-austerity) movement in Barcelona.Prior to this, she was active in housing rights movements and for the use of public space.Her shows have been performed in theatres and festivals throughout Europe and she has created high-impact festivals like OXcars and InnMotion.

Simona Levi is co-author of several books, notable amongst which is Tecnopolítica, internet y r-evoluciones (Technopolitics, the Internet and R-evolutions) about the key role of digital networks in #15M, and she has edited Cultura libre digital – Nociones básicas para defender lo que es de todxs (Free Digital Culture: Basic Notions for Defending What Belongs to Everyone). Both these books were published in 2012 by Icaria.

Levi gives lectures, participates in talk-shows, teaches and offers consultancy in Spanish, Catalan, English, French and Italian in themes ranging from free culture, digital rights, technopolitics, defence of a free, neutral Internet, new forms of democracy and the struggle against corruption.

Since 2017 she has designed and directed the Pompeu Fabra University's master's degree programme "CIVIL RIGHTS, TECHNOPOLITICS AND DIGITAL CULTURE: Common Goods, Democracy and Communication in the Information Age".