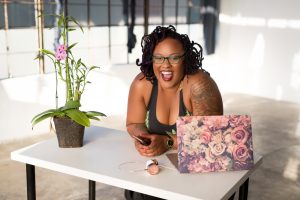 Part social science iconoclast, part feminist theory maven, Shanelle Matthews has spent the last decade injecting social justice movement work with a much-needed dose of strategic and tactical experimentation. Working in the laboratory of applied political communications with Sierra Club, ACLU, Forward Together, the National Network of Abortion Funds, Black Lives Matter Global Network, and others, Shanelle has successfully brought a scientific mindset, including novel hypotheses and custom-tailored tests, to the art and practice of storytelling in order to systematically investigate how people make positive social change.
Because Shanelle knows that a story is an embodied, full-body experience, she has given her whole self — her own story and her own body — to testing her hypotheses. After training as a media spokeperson, Shanelle understood the need for media people to have personal experience with the stories in the media. In 2016, she developed Channel Black, an immersive training program that prepares the next generation of Black, millennial spokespeople to make critical, real-time interventions on racism through the media. By working across issue areas, Shanelle has also discovered that intersectional oppression requires interdisciplinary, whole world thinking, and that we must see beyond the limitations of social power structures in order to ignite people's psychological and spiritual power within social systems to transform our world. She is also the founder of the Radical Communicators Network (RadComms), an online and offline community of people working within social change and public interest communications who are committed to taking a radical approach to winning.
In the fall of 2017, Shanelle joined The New School as the inaugural Activist in Residence where she will work alongside faculty and students to research and develop strategies that significantly reduce anti-Black bias. She brings to this residency her ongoing role as the Director of Communications for the Black Lives Matter Global Network, organizing to end state-sanctioned violence against Black people by building power and winning immediate improvements in our lives.
Shanelle holds a degree in Journalism and New and Online Media from the Manship School of Mass Communications at Louisiana State University.