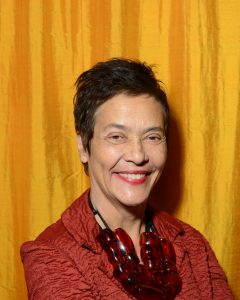 Françoise Vergès holds the Chair "Global South(s)" at the Collège d'études mondiales, Fondation Maison des sciences de l'homme.
She has published several books and articles, in English and French, on vernacular practices of memories, slavery and the economy of predation, the ambiguities of French abolitionism, French republican colonialism, colonial and postcolonial psychiatry in the French colonial empire, Frantz Fanon, Aimé Césaire, French postcoloniality, postcolonial museography, the routes of migration and processes of creolization in the Indian Ocean world. In November 2005 she published a book of interviews with Aimé Césaire, Nègre je suis, nègre je resterai (Albin Michel).
She is the author of several films and she regularly works with filmmakers and artists.