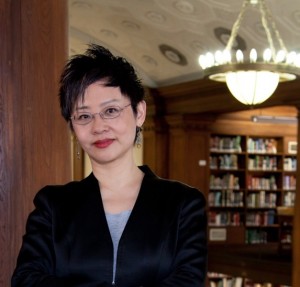 Lydia H. Liu is the Wun Tsun Tam Professor in the Humanities; Director, Institute for Comparative Literature and Society. She received her Ph.D degree in Comparative Literature at Harvard University in 1990. Her research centers on modern China, cross-cultural exchange, and global transformation in modern history, with a focus on the movement of words, theories, and artifacts across national boundaries and on the evolution of writing, textuality, and media technology.
Professor Liu teaches courses on modern Chinese literature and culture in this department and offers graduate courses on comparative literature, critical translation theory, and new media in the Institute for Comparative Literature and Society.
Professor Liu is the author of The Freudian Robot: Digital Media and the Future of the Unconscious (University of Chicago Press, 2010). Her new publications include "Shadows of Universalism: The Untold Story of Human Rights Around 1948," Critical Inquiry, Summer 2014; and "The Eventfulness of Translation: Temporality, Difference, and Competing Universals," forthcoming in translation: a transdisciplinary journal. Her other books include The Clash of Empires: The Invention of China in Modern World Making (2004); Tokens of Exchange: The Problem of Translation in Global Circulations (editor, 1999); Translingual Practice: Literature, National Culture, and Translated Modernity (1995); and Writing and Materiality in China (co-edited with Judith Zeitlin, 2003).
As a creative writer in Chinese, she published a new book (in Chinese) called The Nesbit Code with Oxford University Press in Hong Kong which received the 2014 Hong Kong Book Award. Her most recent collaboration with Rebecca Karl and Dorothy Ko, The Birth of Chinese Feminism: Essential Texts in Transnational Feminism, appeared in print in the Weatherhead Books on Asia series, published by Columbia University Press in 2013.
Professor Liu was the recipient of a Guggenheim Fellowship (1997–1998) and a fellow of the Wissenschaftskolleg in Berlin (2004–2005); in 2013, she was the Class of 1932 Fellow in the Humanities Council at Princeton University.
Among her many activities, Professor Liu established a new Tsinghua-Columbia Center for Translingual and Transcultural Studies (CTTS) at Tsinghua University in Beijing to promote international collaboration and interdisciplinary research.