By Jacob Elkin
While the most prominent climate litigation to date has primarily focused on mitigation—reducing greenhouse gas emissions—adaptation litigation will also increase as climate impacts become more frequent, extreme, and intense. Adaptation cases frequently rely on evidence drawn from scientific research into past and future climate change.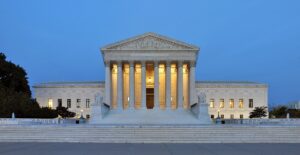 In a white paper published today, the Sabin Center assesses the role of climate science in cases seeking adaptation measures and cases challenging planned or existing adaptation actions. Key questions that emerge from these cases include:
Whether government and corporate defendants have legal discretion to incorporate climate science into their decision-making differently than plaintiffs claim they should, or to ignore certain science altogether.
Whether the relevant climate impacts are foreseeable enough to justify or mandate adaptation measures that respond to those impacts.
Whether the relevant climate impacts have already occurred or will occur in a timeframe that is judicially cognizable.
Whether the judiciary has the expertise to determine questions pertaining to the validity and significance of climate science, or whether those questions should be left to other branches of government.
Building on past Sabin Center publications concerning the role of climate science in litigation and agency action, the paper concludes that climate science is a critical component of climate adaptation cases and that litigants should integrate the best available science into the cases they bring from the outset, but that key legal questions may prevent climate science from playing a determinative role in certain cases.
The white paper was written by Climate Law Fellow Jacob Elkin with generous support from the High Tide Foundation. Read the white paper here.