The Jerome Greene Annex, where all seminar dates are held (with the exceptions of 12/15/16 and 1/5/17, which, as noted on the schedule, will be at the Columbia Global Center in Paris), is located on 410 West 117th Street. To find the Annex, walk past Jerome Greene Hall (Columbia Law School) on 116th Street headed toward Morningside Drive, make a left into the gated courtyard. Then, within the courtyard, walk past Wien Hall on your right, making a right turn just past the building, and enter the door on your right to get into the Annex.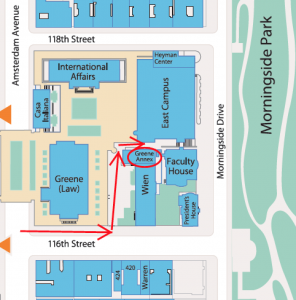 (As you can see, the entrance is not through 117th Street, but rather through the courtyard and then to the right.)
In case of overflow, we will be using Jerome Greene Hall 106 as the overflow room with a live stream.