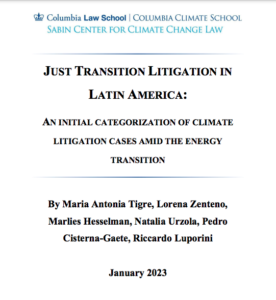 Just transition litigation is a novel and under-researched field. Today, the Sabin Center's launches a new report that analyzes 20 just transition cases from Latin America, filling an important gap in existing research by increasing the visibility of affirmative actions for just transition from the Global South and improving our understanding of the phenomenon of just transition litigation through novel developments in Latin America specifically.
Based on the analysis, the report:
Proposes a definition of the concepts of just transition and just transition litigation through the different dimensions and affected persons that play a role in how cases may play out.
Sets out an initial categorization of just transition litigation
Identifies the human rights arguments posed by plaintiffs in just transition litigation and, when available, how these have been received by courts.
Analyzes how justice arguments and climate arguments are advanced in just transition litigation.
Makes an initial assessment of the remedies available to plaintiffs in just transition litigation
To achieve the long-term temperature goals of the Paris Agreement, countries need to rapidly reduce their reliance on fossil fuels and scale up the use of cleaner alternatives. The scope of transformations needed is profound, wide-ranging, and likely to affect many aspects of everyday life. In the process of dismantling fossil fuel sectors, including its infrastructure, industries, and mining sites, laid-off workers and affected communities will require support. This is part of the just transition. A just energy transition requires that everyone must be able to reap the benefits and participate effectively and inclusively. Decarbonization policies may result in (new) "winners and losers," (as identified by Savaresi and Setzer in a groundbreaking article that identified just transition litigation as a field requiring further research) especially if the burdens and benefits of renewable energy production and consumption are unfairly distributed. Within this context, it comes as no surprise that just transition litigation is arising, questioning how these challenges related to decarbonization policies and projects are distributed.
Building on the specialized literature that observes a rise in litigation seeking more ambitious climate change policies across the Global South (so-called "pro-regulatory" climate litigation), the Sabin Center published a report today considering the rise of just transition litigation in Latin America. The report resulted from a working group on just transition litigation created by the Sabin Center's Peer Review Network of Global Climate Litigation, led by Dr. Maria Antonia Tigre. The Just Transition Working Group – our pilot project in working groups within the Network – was formed to research the subtopic of just transition litigation, which now has its own category in the Global Climate Litigation Database. That category of litigation focuses on the effects of the energy transition on minorities and carbon-dependent communities that face the undue burdens of the costs of decarbonization that are particularly significant in the Global South.
The report, entitled Just Transition Litigation in Latin America: an initial categorization of climate litigation cases amid the energy transition, was written by Maria Antonia Tigre (Sabin Center for Climate Change Law, Columbia Law School), Lorena Zenteno (University of Edinburgh, rapporteur for Chile), Marlies Hesselman (University of Groningen, rapporteur for the Netherlands and UN Special Procedures), Natalia Urzola (Global Network for Human Rights and the Environment, rapporteur for Colombia), Pedro Cisterna-Gaete (University of Edinburgh, rapporteur for the Inter-American System of Human Rights), Riccardo Luporini (Sant'Anna School of Advanced Studies, rapporteur for Italy). Read the report here.
The Sabin Center held a webinar presenting the findings of the report on January 31, 2023. You can watch it here.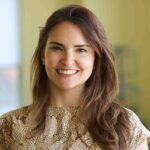 Dr. Maria Antonia Tigre is the Global Climate Litigation Fellow at the Sabin Center for Climate Change Law at Columbia Law School.