By Romany Webb
Just a year into his term, President Trump has already gained a reputation for being staunchly anti-science, with his administration recently described as showing "greater distain for science" than any other in modern history. Every day, it seems, there is a new report of the administration reducing public access to scientific information, cutting funding for scientific research, or downplaying the views of qualified scientists. To keep track of these developments, the Sabin Center for Climate Change Law, in association with the Climate Science Legal Defense Fund, today launched a new Silencing Science Tracker (SST).
The SST is intended as a comprehensive record of government attempts to "silence science" since the November 2016 election. By recording all attempts in a single database, the SST enables users to easily see the myriad of ways in which scientific research and discussion are being undermined by government, and (hopefully) take action in response. This is vital as, in the words of Michael Gerrard, Faculty Director of the Sabin Center:
Scientific knowledge is the very foundation of all environmental regulation. When the government ignores science, it's like a truck driver who wears a blindfold and drives based on what is whispered into his ear — dangerous and intolerable. The vital work of scientists must be supported, made public, and listened to. When government officials block this, we plan to shine a harsh light.
For the purposes of the SST, we define "silencing science" to mean any action that has the effect of restricting or prohibiting scientific research, education, or discussion, or the publication or use of scientific information. Based on news articles and other reports, we have identified 96 examples of such action, taken by the federal government. Over half (56) of the identified actions involve just three federal agencies: (1) the Environmental Protection Agency (EPA), which was involved in 27 actions; (2) the Department of the Interior (DOI), which was involved in 17 actions; and (3) the Department of Energy (DOE), which was involved in 12 actions. State-level actions are not currently included in the SST, but will be added in coming weeks.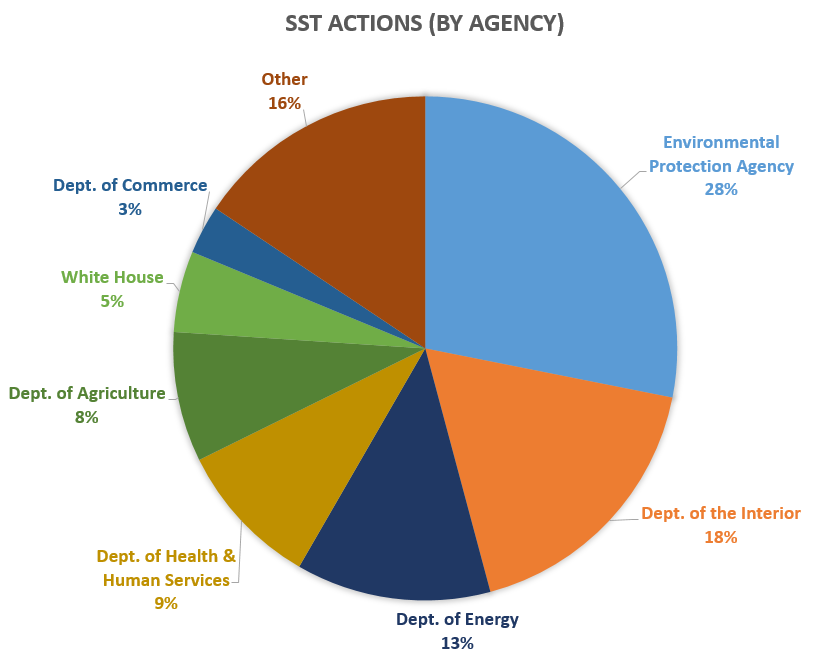 SST actions are divided into six categories as follows:
| | |
| --- | --- |
| Category | Example from the SST |
| Government censorship, which refers to any action making scientific information more difficult to find or access, including changes to government websites that suppress or distort information | The Secretary of the Interior reprimanding national park service staff for tweeting about climate change |
| Self-censorship, which occurs where government scientists voluntarily change websites or documents to suppress or distort scientific information, potentially in response to political pressure | EPA staff pre-emptively removing references to "climate change" from program documents to minimize the risk of politically-motivated program cuts. |
| Budget cuts, which encompass reductions in funding for existing government programs involving scientific research or education, and the cancellation of existing government grants | The Trump administration proposing a 59% cut in funding for the DOE's earth and environmental sciences program |
| Personnel changes, which include the removal of government scientists, the failure to fill scientific positions in government, and the appointment of unqualified individuals to such positions | DOI reassigning 50 scientists, including some working on climate change, to unrelated positions |
| Research hindrance, which refers to any government action preventing or hindering the conduct of scientific information, such as the destruction of needed data | DOI reassigning 50 scientists, including some working on climate change, to unrelated positions |
| Bias and misrepresentation, which involves the government misrepresenting or mischaracterizing scientific studies, or engaging in "cherry picking" | The EPA Administrator overruling agency scientists' recommendation to ban a chemical without explanation |
Most actions fall within the "government censorship" category, followed by the "personnel changes" and "budget cuts" categories.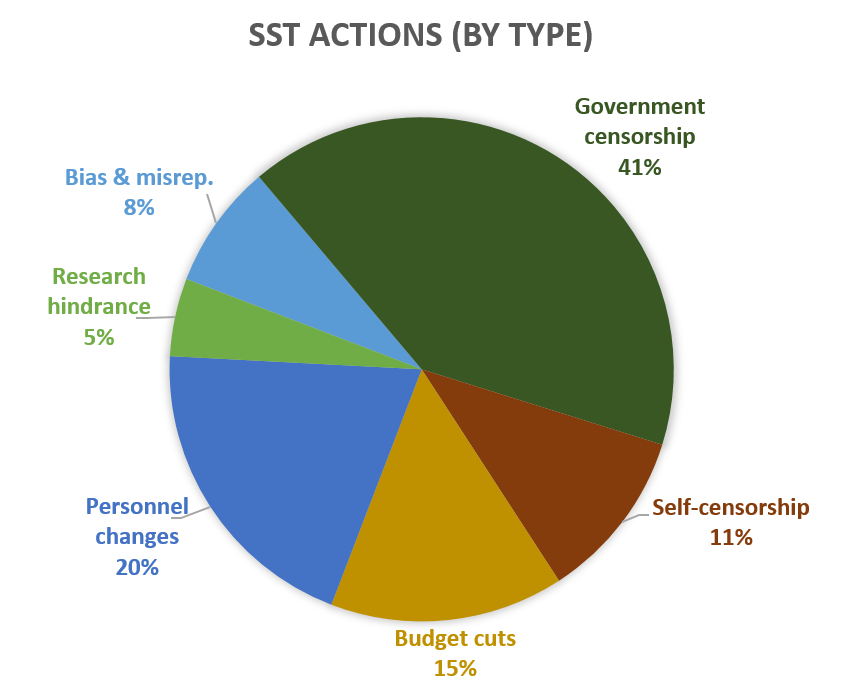 We will keep the SST updated with new federal and state developments going forward. We will also continue to update the Climate Deregulation Tracker which records government attempts to undermine federal climate mitigation and adaptation efforts. Users can subscribe for updates from the Silencing Science Tracker here and the Climate Deregulation Tracker here. For more information about the trackers, and/or to recommend material for inclusion, please contact Romany Webb (rwebb@law.columbia.edu).