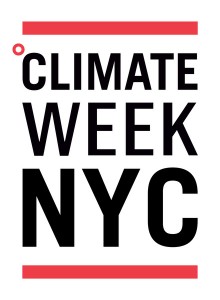 Next week is the seventh annual Climate Week NYC. A variety of events, activities, and high-profile meetings will be convened to advance action on climate change mitigation and adaptation. The Sabin Center is pleased to announce that we will be sponsoring or participating in four different events next week, all of which are open to the public:
Meeting China's Climate Goals – On Monday, September 21, the Center on Global Energy Policy and the Sabin Center will host a discussion on the opportunities and challenges that China faces in meeting its climate goals. Panelists will discuss how China can shift its economy away from coal-fired power generation, improve energy efficiency, and increase the share of low carbon energy sources in its economy, and how the U.S. and China can work together to promote their shared climate goals. The event will take place from 12:30 – 2:00 pm in the Columbia University Faculty House, 2nd Floor. Please RSVP here.
Merchants of Doubt Screening with Dr. Naomi Oreskes – On the evening of Monday, September 21, the Climate Science Legal Defense Fund and the Sabin Center will host a screening of the acclaimed documentary film, Merchants of Doubt, which lifts the curtain on secretive pundits-for-hire who manufacture confusion about the science of established public threats ranging from tobacco to climate change. The screening will be followed by a Q&A with Naomi Oreskes, the author of the book upon which the film was based. The event will take place from 7:00 – 9:00 pm in Columbia Law School, Jerome Greene Hall, Room 103. Please RSVP here.
Webinar: Current Hot Topics in Climate Change Law – On Thursday, September 24, the American Bar Association is hosting a webinar to discuss hot topics in climate change law, such as the expected litigation on the President's Clean Power Plan, the UN climate conference in December, emerging standards for disclosure of climate change issues in environmental impact statements, and securities disclosure and the growing movement for fossil fuel divestment. Professor Michael Gerrard, faculty director of the Sabin Center, will be speaking along with Jody Freeman, the director of the Environmental Law Program at Harvard Law School. The webinar will take place from 1:00 – 2:30 pm ET. You can register here.
New York City – Building Energy Benchmarking Law: Acting on the Results – On the evening of Thursday, September 24, the Environmental Law Committee of the NYC Bar, the Sallan Foundation, the New York League of Conservation Voters, and the Sabin Center are co-sponsoring an expert panel to assess the results of NYC's landmark Local Law 84, the Building Energy Benchmarking Mandate, which started collecting energy use data in 2010. The event will take place from 6:30 – 8:30 pm at the NYC Bar Association, 42 West 44th Street, New York. Please RSVP here.