By Michael B. Gerrard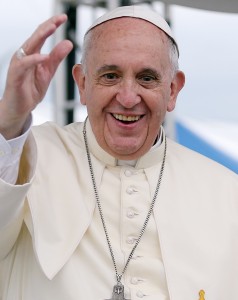 The remarkable Encyclical Letter issued last week by Pope Francis could be read as a primer on the importance and idealized operation of many of our environmental laws.
The headings below are mine; the text is from the Vatican.​
National Environmental Policy Act
​183. Environmental impact assessment should not come after the drawing up of a business proposition or the proposal of a particular policy, plan or programme. It should be part of the process from the beginning, and be carried out in a way which is interdisciplinary, transparent and free of all economic or political pressure. It should be linked to a study of working conditions and possible effects on people's physical and mental health, on the local economy and on public safety. Economic returns can thus be forecast more realistically, taking into account potential scenarios and the eventual need for further investment to correct possible undesired effects. A consensus should always be reached between the different stakeholders, who can offer a variety of approaches, solutions and alternatives. The local population should have a special place at the table; they are concerned about their own future and that of their children, and can consider goals transcending immediate economic interest. We need to stop thinking in terms of "interventions" to save the environment in favour of policies developed and debated by all interested parties. The participation of the latter also entails being fully informed about such projects and their different risks and possibilities; this includes not just preliminary decisions but also various follow-up activities and continued monitoring. Honesty and truth are needed in scientific and political discussions; these should not be limited to the issue of whether or not a particular project is permitted by law.
Clean Air Act​
20. Some forms of pollution are part of people's daily experience. Exposure to atmospheric pollutants produces a broad spectrum of health hazards, especially for the poor, and causes millions of premature deaths. People take sick, for example, from breathing high levels of smoke from fuels used in cooking or heating. There is also pollution that affects everyone, caused by transport, industrial fumes, substances which contribute to the acidification of soil and water, fertilizers, insecticides, fungicides, herbicides and agrotoxins in general. Technology, which, linked to business interests, is presented as the only way of solving these problems, in fact proves incapable of seeing the mysterious network of relations between things and so sometimes solves one problem only to create others.
21. Account must also be taken of the pollution produced by residue, including dangerous waste present in different areas. Each year hundreds of millions of tons of waste are generated, much of it non-biodegradable, highly toxic and radioactive, from homes and businesses, from construction and demolition sites, from clinical, electronic and industrial sources. The earth, our home, is beginning to look more and more like an immense pile of filth. In many parts of the planet, the elderly lament that once beautiful landscapes are now covered with rubbish. Industrial waste and chemical products utilized in cities and agricultural areas can lead to bioaccumulation in the organisms of the local population, even when levels of toxins in those places are low. Frequently no measures are taken until after people's health has been irreversibly affected.
​Clean Water Act and Safe Drinking Water Act​
28. Fresh drinking water is an issue of primary importance, since it is indispensable for human life and for supporting terrestrial and aquatic ecosystems. Sources of fresh water are necessary for health care, agriculture and industry. Water supplies used to be relatively constant, but now in many places demand exceeds the sustainable supply, with dramatic consequences in the short and long term. Large cities dependent on significant supplies of water have experienced periods of shortage, and at critical moments these have not always been administered with sufficient oversight and impartiality. Water poverty especially affects Africa where large sectors of the population have no access to safe drinking water or experience droughts which impede agricultural production. Some countries have areas rich in water while others endure drastic scarcity.
29. One particularly serious problem is the quality of water available to the poor. Every day, unsafe water results in many deaths and the spread of water-related diseases, including those caused by microorganisms and chemical substances. Dysentery and cholera, linked to inadequate hygiene and water supplies, are a significant cause of suffering and of infant mortality. Underground water sources in many places are threatened by the pollution produced in certain mining, farming and industrial activities, especially in countries lacking adequate regulation or controls. It is not only a question of industrial waste. Detergents and chemical products, commonly used in many places of the world, continue to pour into our rivers, lakes and seas.
30. Even as the quality of available water is constantly diminishing, in some places there is a growing tendency, despite its scarcity, to privatize this resource, turning it into a commodity subject to the laws of the market. Yet access to safe drinkable water is a basic and universal human right, since it is essential to human survival and, as such, is a condition for the exercise of other human rights. Our world has a grave social debt towards the poor who lack access to drinking water, because they are denied the right to a life consistent with their inalienable dignity. This debt can be paid partly by an increase in funding to provide clean water and sanitary services among the poor. But water continues to be wasted, not only in the developed world but also in developing countries which possess it in abundance. This shows that the problem of water is partly an educational and cultural issue, since there is little awareness of the seriousness of such behaviour within a context of great inequality.
31. Greater scarcity of water will lead to an increase in the cost of food and the various products which depend on its use. Some studies warn that an acute water shortage may occur within a few decades unless urgent action is taken. The environmental repercussions could affect billions of people; it is also conceivable that the control of water by large multinational businesses may become a major source of conflict in this century.[23]
​Endangered Species Act​
32. The earth's resources are also being plundered because of short-sighted approaches to the economy, commerce and production. The loss of forests and woodlands entails the loss of species which may constitute extremely important resources in the future, not only for food but also for curing disease and other uses. Different species contain genes which could be key resources in years ahead for meeting human needs and regulating environmental problems.
33. It is not enough, however, to think of different species merely as potential "resources" to be exploited, while overlooking the fact that they have value in themselves. Each year sees the disappearance of thousands of plant and animal species which we will never know, which our children will never see, because they have been lost for ever. The great majority become extinct for reasons related to human activity. Because of us, thousands of species will no longer give glory to God by their very existence, nor convey their message to us. We have no such right.
34. It may well disturb us to learn of the extinction of mammals or birds, since they are more visible. But the good functioning of ecosystems also requires fungi, algae, worms, insects, reptiles and an innumerable variety of microorganisms. Some less numerous species, although generally unseen, nonetheless play a critical role in maintaining the equilibrium of a particular place. Human beings must intervene when a geosystem reaches a critical state. But nowadays, such intervention in nature has become more and more frequent. As a consequence, serious problems arise, leading to further interventions; human activity becomes ubiquitous, with all the risks which this entails. Often a vicious circle results, as human intervention to resolve a problem further aggravates the situation. For example, many birds and insects which disappear due to synthetic agrotoxins are helpful for agriculture: their disappearance will have to be compensated for by yet other techniques which may well prove harmful. We must be grateful for the praiseworthy efforts being made by scientists and engineers dedicated to finding solutions to man-made problems. But a sober look at our world shows that the degree of human intervention, often in the service of business interests and consumerism, is actually making our earth less rich and beautiful, ever more limited and grey, even as technological advances and consumer goods continue to abound limitlessly. We seem to think that we can substitute an irreplaceable and irretrievable beauty with something which we have created ourselves.
35. In assessing the environmental impact of any project, concern is usually shown for its effects on soil, water and air, yet few careful studies are made of its impact on biodiversity, as if the loss of species or animals and plant groups were of little importance. Highways, new plantations, the fencing-off of certain areas, the damming of water sources, and similar developments, crowd out natural habitats and, at times, break them up in such a way that animal populations can no longer migrate or roam freely. As a result, some species face extinction. Alternatives exist which at least lessen the impact of these projects, like the creation of biological corridors, but few countries demonstrate such concern and foresight. Frequently, when certain species are exploited commercially, little attention is paid to studying their reproductive patterns in order to prevent their depletion and the consequent imbalance of the ecosystem.
​Zoning​
150. Given the interrelationship between living space and human behaviour, those who design buildings, neighbourhoods, public spaces and cities, ought to draw on the various disciplines which help us to understand people's thought processes, symbolic language and ways of acting. It is not enough to seek the beauty of design. More precious still is the service we offer to another kind of beauty: people's quality of life, their adaptation to the environment, encounter and mutual assistance. Here too, we see how important it is that urban planning always take into consideration the views of those who will live in these areas.
​UN Framework Convention on  Climate Change​
23. The climate is a common good, belonging to all and meant for all. At the global level, it is a complex system linked to many of the essential conditions for human life. A very solid scientific consensus indicates that we are presently witnessing a disturbing warming of the climatic system. In recent decades this warming has been accompanied by a constant rise in the sea level and, it would appear, by an increase of extreme weather events, even if a scientifically determinable cause cannot be assigned to each particular phenomenon. Humanity is called to recognize the need for changes of lifestyle, production and consumption, in order to combat this warming or at least the human causes which produce or aggravate it. It is true that there are other factors (such as volcanic activity, variations in the earth's orbit and axis, the solar cycle), yet a number of scientific studies indicate that most global warming in recent decades is due to the great concentration of greenhouse gases (carbon dioxide, methane, nitrogen oxides and others) released mainly as a result of human activity. Concentrated in the atmosphere, these gases do not allow the warmth of the sun's rays reflected by the earth to be dispersed in space. The problem is aggravated by a model of development based on the intensive use of fossil fuels, which is at the heart of the worldwide energy system. Another determining factor has been an increase in changed uses of the soil, principally deforestation for agricultural purposes​.
Yet-to-be written laws on energy transition
165. We know that technology based on the use of highly polluting fossil fuels – especially coal, but also oil and, to a lesser degree, gas – needs to be progressively replaced without delay. Until greater progress is made in developing widely accessible sources of renewable energy, it is legitimate to choose the lesser of two evils or to find short-term solutions. But the international community has still not reached adequate agreements about the responsibility for paying the costs of this energy transition. In recent decades, environmental issues have given rise to considerable public debate and have elicited a variety of committed and generous civic responses. Politics and business have been slow to react in a way commensurate with the urgency of the challenges facing our world. Although the post-industrial period may well be remembered as one of the most irresponsible in history, nonetheless there is reason to hope that humanity at the dawn of the twenty-first century will be remembered for having generously shouldered its grave responsibilities.
The Importance of Environmental Laws​
53. These situations have caused sister earth, along with all the abandoned of our world, to cry out, pleading that we take another course. Never have we so hurt and mistreated our common home as we have in the last two hundred years. Yet we are called to be instruments of God our Father, so that our planet might be what he desired when he created it and correspond with his plan for peace, beauty and fullness. The problem is that we still lack the culture needed to confront this crisis. We lack leadership capable of striking out on new paths and meeting the needs of the present with concern for all and without prejudice towards coming generations. The establishment of a legal framework which can set clear boundaries and ensure the protection of ecosystems has become indispensable; otherwise, the new power structures based on the techno-economic paradigm may overwhelm not only our politics but also freedom and justice.