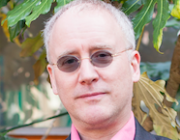 David Armitage, is the Lloyd C. Blankfein Professor of History and Chair of the Department of History at Harvard University, where he teaches intellectual history and international history. He is also an Affiliated Professor in the Harvard Department of Government, an Affiliated Faculty Member at Harvard Law School and an Honorary Professor of History at the University of Sydney.
He was born in Britain and educated at the University of Cambridge and Princeton University; before moving to Harvard in 2004, he taught for eleven years at Columbia University. A prize-winning teacher and writer, he has lectured on six continents and has held research fellowships and visiting positions in Britain, France, the United States and Australia.
David Armitage is the author or editor of fifteen books, among them The Ideological Origins of the British Empire (2000), which won the Longman/History Today Book of the Year Award, The Declaration of Independence: A Global History (2007), which was chosen as a Times Literary Supplement Book of the Year, Foundations of Modern International Thought (2013) and The History Manifesto (co-auth., 2014), a New Statesman Book of the Year. His latest book, Civil War: A History in Ideas, will appear in the autumn of 2016. His most recent edited works are Shakespeare and Early Modern Political Thought (co-ed., 2009), also a TLS Book of the Year, The Age of Revolutions in Global Context, c. 1760-1840 (co-ed., 2010), a Choice Outstanding Academic Title, and Pacific Histories: Ocean, Land, People (co-ed., 2014). He is currently completing an edition of John Locke's colonial writings and co-editing books on the law of nations in global history and on the cultural history of peace in the Enlightenment. His articles and essays have appeared in journals, newspapers and collections around the world and his works have been translated into Chinese, Danish, Dutch, French, Italian, Japanese, Portuguese, Russian and Spanish, with others soon to appear in Arabic, Greek, Korean, Polish and Turkish.
He is co-editor of two book series with Cambridge University Press, Ideas in Context and Cambridge Oceanic Histories, a Syndic of the Harvard University Press and a member of the Steering Committee of the Center for the History of British Political Thought at the Folger Shakespeare Library. In 2006, the National Maritime Museum in London awarded him its Caird Medal for "conspicuously important work of a nature that involves communicating with the public" and in 2008 Harvard named him a Walter Channing Cabot Fellow for "achievements and scholarly eminence in the fields of literature, history or art". In 2015, he received Cambridge University's highest degree, the LittD, for "distinction by some original contribution to the advancement of science or of learning".