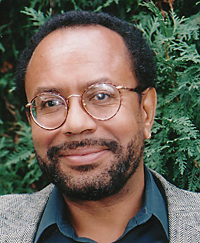 Robert Gooding-Williams is the M. Moran Weston/Black Alumni Council Professor of African-American Studies at Columbia University. He holds appointments in both the Philosophy Department and the Institute for Research in African American Studies (IRAAS), where he is a member of the Core Faculty and founding director of the Center for Race, Philosophy, and Social Justice. His areas of research and teaching interest include Social and Political Philosophy (esp. antiracist critical theory), the History of African-American Political Thought, 19th Century European Philosophy (esp. Nietzsche), Existentialism, and Aesthetics (including literature and philosophy, representations of race in film, and the literary theory and criticism of African-American literature).
His books include: Zarathustra's Dionysian Modernism (Stanford University Press, 2001); Look, A Negro! Philosophical Essays on Race, Culture, and Politics (Routledge, 2005); and In The Shadow of Du Bois: Afro-Modern Political Thought in America (Harvard University Press, 2009).  In 2010, In the Shadow of Du Bois received two book commendations: one, for the Best Book on Race, Ethnicity and Political Thought, awarded by the Race, Ethnicity, and Politics section of the APSA (American Political Science Association); and the second, an Honorable Mention citation in connection to the David Easton Award, awarded by the Foundations of Political Theory section of the APSA.
Presently, Gooding-Williams is a member of the APA Eastern Division Nominating Committee, an Advisory Editor of The Journal of the American Philosophical Association, a member of the Editorial Council of Constellations, and Co-editor of the Symposia on Gender, Race and Philosophy, a web site that publishes commentary by philosophers and other scholars on recent philosophical writing on race and gender.