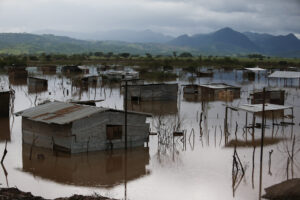 Loss and damage, the term for the detrimental impacts of climate change that cannot be addressed through mitigation or adaptation, will be a central point of discussion at COP27. For the first time in thirty years, delegates have agreed to formally add the topic to the agenda for the annual convening. The issue of funding for loss and damage was first raised by the Alliance of Small Island States in the early 1990s, when the group proposed that the financial burden of sea level rise in low-lying and small island developing countries be borne by the world's most industrialized nations. The topic has steadily gained traction in international climate negotiations since then, with "loss and damage" first appearing in a negotiated text at COP13 in 2007 and later forming the "third pillar" of climate action in the Paris Agreement in 2015.
But calls for funding to address loss and damage have long been met with staunch opposition from the U.S. and other developed nations. In the U.S., it's extremely unlikely that Congress would be willing to appropriate the necessary funds for loss and damage compensation, but resistance to loss and damage funding is often also framed as a concern that a funding agreement could give rise to unpredictable litigation and potentially unlimited liability. What exactly is the nature of this concern, and how likely is it that an international funding agreement for loss and damage would actually open a "Pandora's box" of litigation for the U.S. and other major greenhouse gas emitters?
The U.S. has raised concerns about legal liability arising from international climate agreements going back to at least 1992, when the Rio Declaration included a statement that "in view of the different contributions to global environmental degradation, States have common but differentiated responsibilities." In its written statement on the declaration, the U.S. rejected any interpretation of the agreement "that would imply a recognition or acceptance … of any international obligations or liabilities."
Concerns about the potential for liability have become a more prominent sticking point for the U.S. and other developed nations in the last decade. Ahead of COP18 in 2012, U.K. Energy Secretary Ed Davey expressed concerns about any agreement "saying we are strictly liable for some particular event or some particular change," while U.S. envoy Todd Stern declined to publicly comment on the liability issue. In 2015, prior to COP21 in Paris, John Kerry framed the U.S.'s position as an issue of congressional pushback rather than a specific legal argument about liability. Although he claimed that the U.S. was "not against" loss and damage funding, "we're in favor of framing it in a way that doesn't create a legal remedy because Congress will never buy into an agreement that has something like that."
As a result, although Article 8 of the Paris Agreement recognizes the need to address loss and damage resulting from climate change, developed countries only agreed to include this language on the understanding that it "does not involve or provide a basis for any liability or compensation." Without this disclaimer, Stern claims, litigants seeking to recover for loss and damage "would point to Paris, not … to say this necessarily proves their case, but that it would be a factor or something to weigh in the balance." This provision, known as Paragraph 51, effectively ensures that the Paris Agreement cannot give rise to legal claims to recover for loss and damage, but at the same time it doesn't preclude claims under existing law. At COP25, the U.S. unsuccessfully advocated for Paragraph 51 to be extended to the entire UNFCC in order to ensure that it could not be held liable even after leaving the Paris Agreement.
Despite pointing to the potential for liability as a reason not to provide loss and damage funding under an international agreement, the U.S. and other major emitting countries have offered little in the way of elaboration on their concerns about litigation risk. The U.K. in 2012 seemed concerned primarily with the imposition of strict liability under a loss and damage agreement, and although strict liability regimes are common in international agreements, there are alternative ways of determining a country's financial contribution for loss and damage funding.
In the absence of an agreement that explicitly establishes a liability regime, it's not clear that any cause of action exists to recover for climate harms. At the same time, it's unlikely that a U.S. court would interpret an international funding agreement as a concession of fault or causation under any theory of liability. Even so, there are a number of ways that the agreement could be structured to further reduce the risk of outside liability. For example, the funding arrangement could be accompanied by a disclaimer similar to Paragraph 51 stating that the agreement cannot be interpreted as a concession of fault or attribution of damage, or cannot be used as evidence in a legal proceeding. Alternatively, the agreement could be structured so that each country's financial obligation is untethered from its emissions and is instead tied to a different relevant measure, such as GDP.
Of course, these workarounds may be unacceptable for countries that are intent on accountability that goes beyond funding. Developing nations may be unwilling to sign onto an agreement in which the world's largest greenhouse gas emitters fail to take clear responsibility for loss and damage, or one that purports to limit remedies for climate harms. It's nevertheless worth examining the nature of the liability argument and the mechanisms that exist to limit litigation risk, if only to advance the conversation around the negotiating position that has otherwise proved to be a thirty-year stumbling block.