by Korey Silverman-Roati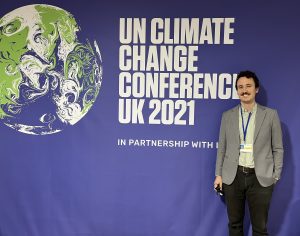 Introduction
After an extra year's delay and a summer of climate change-induced disasters, the 26th Conference of the Parties to the UN Framework Convention on Climate Change (COP26) entered its second week on Monday. I attended the first week volunteering with the organization Legal Response International (LRI) which provides legal aid to low-income developing nations in the negotiations. LRI's work is important because many of the countries they aid are unable to send large delegations to follow the many threads of negotiations occurring at once at COP26. These access issues were only exacerbated by the pandemic – many small island nations vulnerable to climate change were unable to send delegates due to COVID restrictions.
The first week can be split into two parts, with different structures and outcomes in each. The first part – the Leaders Summit – involved speeches from presidents and prime ministers from around the world announcing top-line commitments with few details. The second part, once the Leaders Summit ended, returned to the normal flow of COPs, where negotiators spanned out to dozens of meeting rooms to hammer out the details of decision language. These decisions help implement and operationalize the text of the Paris Agreement, much like regulations clarify statutory law.
Leaders Summit Developments
During the first two days of COP26, presidents and prime ministers announced significant climate commitments that would meaningfully reduce warming if they are implemented effectively. Significant details remain to be resolved, however, and many observers noted the need to overcome past failures of similar announcements.
Global Methane Pledge
EU Commission chief Ursula von der Leyen and US President Joe Biden made a joint announcement of a pledge to cut global methane emissions 30% by 2030, relative to 2020 levels. They announced that over 100 countries had joined the pledge, including half of the top 30 methane emitters in the world. Notably missing were large methane emitters China, India, and Russia. This commitment is critical because methane has significantly higher global warming potential than CO2 over a 100 year time period. And though it lasts in the atmosphere for shorter period than CO2, cutting methane and other short-lived climate pollutants are critical for bending the curve of warming towards a more livable planet.
Significant work remains to be done to expand the number of countries involved, detail the ways countries will meet the commitment, and verify that cuts have actually occurred. I walked around with one observer working to rally developing country support for the pledge, to build into a coalition that can in turn put pressure on large emitters. More of this difficult but important work is needed.
Declaration on Forests and Land Use
More than 100 countries pledged to end and reverse deforestation by 2030. Together these countries, including Canada, Brazil, Russia, China, and the US, cover more than 85% of the world's forests. And the pledge includes about $19 billion in public and private funds to aid implementation. Protecting the carbon sink forests provide is critical in the fight against climate change.
Perhaps even more so than the methane pledge, effort will be needed to ensure the deforestation pledge is met. In 2014, leaders made a similar pledge in the New York Declaration on Forests, but since then, tropical primary forest loss has increased and tree cover gains have been insufficient.
Global Coal to Clean Power Pledge
Although it was announced after the Leaders Summit, a similar pledge to the two above occurred at COP. More than forty countries, including at least 23 countries at this COP, made commitments to phase out coal power. Five of the world's top 20 coal power-using countries joined, but large emitters China and the US did not. This came alongside a separate commitment to end public financing for "unabated" fossil fuel projects by the end of 2022. Unabated fossil fuel projects mean those not mitigated with carbon capture technologies.
Phasing out coal is a low-hanging fruit in climate policy, due to its high emissions and high costs, and more countries will need to make similar announcements in the near future. The announcement set vague timelines – in the 2030s or thereafter for major economies, and in the 2040s for everyone else – so more concrete deadlines will likely be needed to make the commitment effective.
Paris Agreement Negotiation Developments
Alongside the Leaders Summit, negotiations began on the implementation of several important matters relating to the Paris Agreement. Some involved difficult issues, where for years parties had punted negotiations to the next year because they could not resolve them at previous COPs. Whether COP26 is seen by parties as a success or not likely depends on a positive resolution of the following issues, among others, over the next week.
Cooperative Approaches
Article 6 of the Paris Agreement provides the framework through which parties may choose to act cooperatively with other parties to meet nationally determined contribution (NDC) targets. Although COP24 in Katowice, Poland was the designated time to set the rule book for articles of the Paris Agreement, parties failed to agree on Article 6 then, and also failed to agree in Madrid one year later. The issue is made difficult by the widespread view that a previous iteration of cooperative approaches, the Clean Development Mechanism under the Kyoto Protocol, failed to deliver climate benefits and safeguards to local communities.
I sat in on informal negotiations on Article 6 during the first week where parties debated the metrics, timelines, and governance in Article 6 rules. At the end of the first week, negotiators had worked through three draft texts of rule-making decisions, and expressed notes of optimism that the issues would be resolved.
Matters Relating to Finance
During Paris Agreement negotiations, developed countries reiterated a commitment to mobilizing $100 billion per year by 2020 to developing countries to aid in implementation. Developed countries failed to reach this level in time; before COP estimates suggested they would reach it by 2023, and John Kerry estimated during COP that they will be able to reach it in 2022. This history provides the context for new negotiations at COP26 over finance flows after 2025, which are intended to build from a floor of $100 billion per year. These negotiations remain contentious, and one report claims that developed and developing countries remain far apart on key issues heading into the second week.
Loss and Damage
The responsibility to address effects from climate change that cannot be resolved through adaptation are referred to in the Paris Agreement as Loss and Damage under Article 8. Developing country parties were instrumental in ensuring its inclusion, but developed country parties have moved to limit the article's ability to provide a venue for liability or compensation to developing countries. In 2019, the parties established the Santiago Network to connect vulnerable developing countries with technical assistance, knowledge, and resources to address loss and damage. At COP26, developing country parties are pushing for decisions to elaborate the functions of the Santiago Network.
Conclusion
The COP represents a necessary meeting of countries from all over the world to negotiate climate policy. Without it, climate policy would be more disorganized, reactive, and more difficult to verify. But it is a slow-moving laborious process attempting to respond to a fast-moving humanity-wide crisis.
Alongside formal and informal negotiations are hundreds of side events and protests, including an estimated 100,000 protesters streaming through Glasgow last Saturday. Indeed, in critiquing the COP after the previous iteration in Madrid, Susan Biniaz noted that the side events at COP seem more like the main event, and her critique of the process is a good read for those interested in making climate policy more effective. The protests and side events are also a reminder that the climate crisis will not be solved through high-level negotiation alone, and that every lever of power, from public demonstration to litigation, will be needed.