By Dena Adler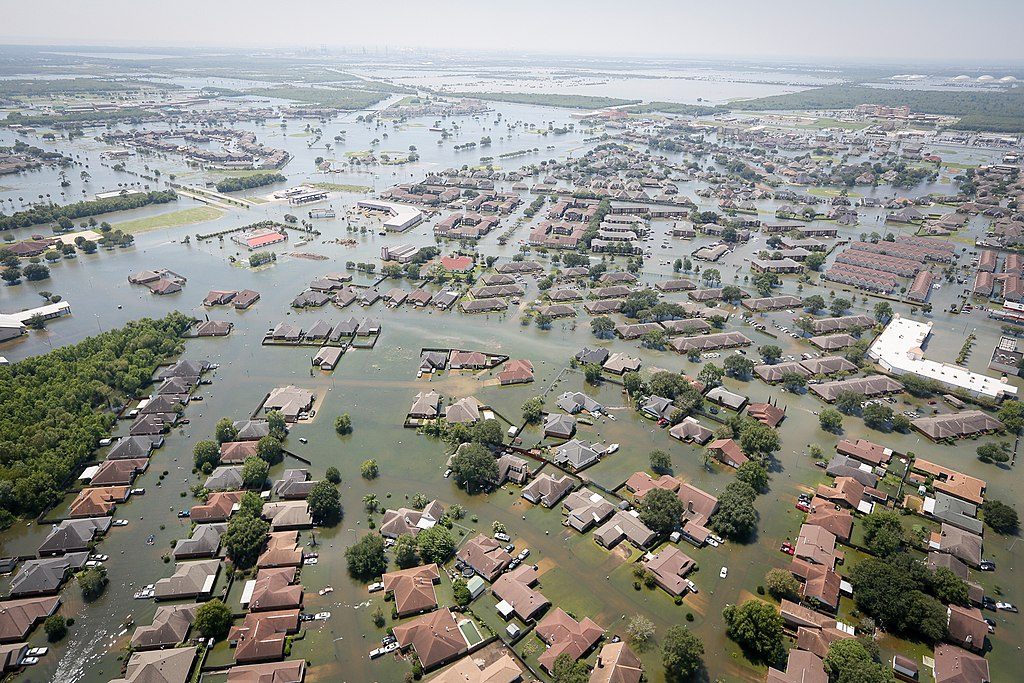 Since September 2017, Congress has kept the National Flood Insurance Program (NFIP) afloat with a series of short-term extensions, repeatedly punting on a valuable opportunity to issue a long-term reauthorization and reform the program to better protect communities from the increased risks of flooding spurred by climate change. But  the federal government is not the only entity poised to take action. A new white paper from the Sabin Center and the Natural Resources Defense Council, "Breaking the Cycle of "Flood-Rebuild-Repeat": Local and State Options to Improve Substantial Damage and Improvement Standards in the National Flood Insurance Program," proposes legal and policy reforms that states and localities can implement to make their communities more resilient and to update the NFIP for the realities of climate change.
Congress established the National Flood Insurance Program (NFIP) in 1968 to reduce flood damages nationwide and ease the Federal government's financial burden for providing disaster recovery.  Today, approximately 22,000 communities in all 50 states and U.S. territories participate in the NFIP. The program has 5.1 million flood insurance policies providing $1.3 trillion in coverage. But due largely to recent flood disasters and charging insufficient premiums that don't reflect homeowners' true risk exposure, the NFIP has sunk over $20.5 billion in debt.
A proportionally small number of properties insured through the program are repeatedly flooded, repaired, and rebuilt. These properties, known as "severe repetitive loss" (SRL) properties, contribute disproportionally to the rising debts of the NFIP program. SRL properties represent just 0.6 percent of the roughly 5.1 million properties insured through the NFIP, but they account for a 9.6 percent of all damages paid, as of 2015. Climate change impacts, including sea level rise, more intense and frequent precipitation events, and increased storm surge, put these already vulnerable properties at even greater risk and will greatly increase the number of properties caught in this cycle of "flood-rebuild-repeat."
Fortunately, the NFIP contains an adaptive mechanism—the substantial improvement/damage ("SI/SD") standard—which can break the cycle of "flood-rebuild-repeat."  To join the NFIP, communities must adopt and enforce a uniform set of floodplain regulations, which include the SI/SD standard. The SI/SD standard requires property owners making significant improvements or repairs to structures in areas most vulnerable to flooding to take certain measures to mitigate their risk. These measures include requirements to elevate, relocate, or demolish a residential structure. Non-residential structures may be flood-proofed. However, two critical shortcomings of the current FEMA SI/SD definition undermine the effectiveness of program: 1) the SI/SD standard is only triggered when damages or repair work are equal to or exceed 50 percent of the fair market value of the structure, and 2) the regulatory definitions of "substantial improvement" and "substantial damage" do not consider repetitive cumulative repair work or cumulative damage over time.
A number of NFIP communities have undertaken more rigorous SI/SD standards as part of the Community Rating System (CRS) Program which rewards communities which mitigate their flood risk by reducing flood insurance premiums for their citizens. Review of 2013 data from FEMA, the most current that the agency could provide, revealed that among the 1,444 communities participating in the CRS program, roughly 1/3 receive points for taking some action toward instituting a more rigorous cumulative or lower threshold SI or SD standard. More specifically:
At least 309 communities received CRS credit for a cumulative SI or SD standard with at least a 10-year tracking requirement.
At least 90 communities received CRS credit for a cumulative SI or SD standard with at least a 5-year tracking requirement.
Collectively, these communities represent roughly a quarter of CRS communities (399/1444 or 27.6 percent), illustrating an opportunity for many more communities to follow suit.
Few communities utilize a threshold below 50 percent of market value for measuring substantial damage or improvements. FEMA data identifies 25 communities receiving credit for less than a 50 percent threshold and 32 communities receiving credit for a regulatory threshold that is no more than 25 percent of the square footage of a building's lowest floor.
Reforming the SI/SD standard to calculate damages cumulatively over time and to be triggered for damages and repair work worth less than 50 percent of the fair market value of the structure can help the NFIP program better weather a changing climate, lessen the taxpayer burden, and increase the safety of millions of homeowners. Through model flood ordinances, building codes, other regulations, and guidance, states have several mechanisms to encourage or require municipalities and counties to adopt these more protective standards. This white paper proposes model ordinance language for state-level programs or direct adoption by communities that integrates both cumulative and lower threshold definitions of substantial damage and improvement. Communities will yield three primary benefits from adoption of such standards:
The proposed model ordinance should help communities better protect people and property by bringing older housing stock into current floodplain management requirements more expediently.
The proposed cumulative and lower threshold model ordinance is structured to satisfy Increased Cost of Compliance (ICC) coverage requirements to ensure that NFIP policyholders are eligible for financial assistance to bring their structure into compliance after a flood.
The proposed model ordinance is designed to maximize Community Rating System (CRS) credit, which will help communities attain a higher CRS ranking, and thus, reduced insurance costs for their residents.
Nevertheless, several challenges arise in effectively raising the SI/SD standard related to tracking, financing, and equity. These challenges can be at least partially mitigated through: 1) issuing disclosure laws that track expenditures for repairs and damages over time so that potential buyers and new owners are aware of their property's history, 2) pursuing novel financing and insurance strategies that could reduce the administrative and monetary burden of implementing the proposed SI/SD standard, and 3) integrating equity and underlying social vulnerability considerations into a reform package and providing adequate financing and other support. Read the full report to learn more.