By Dena Adler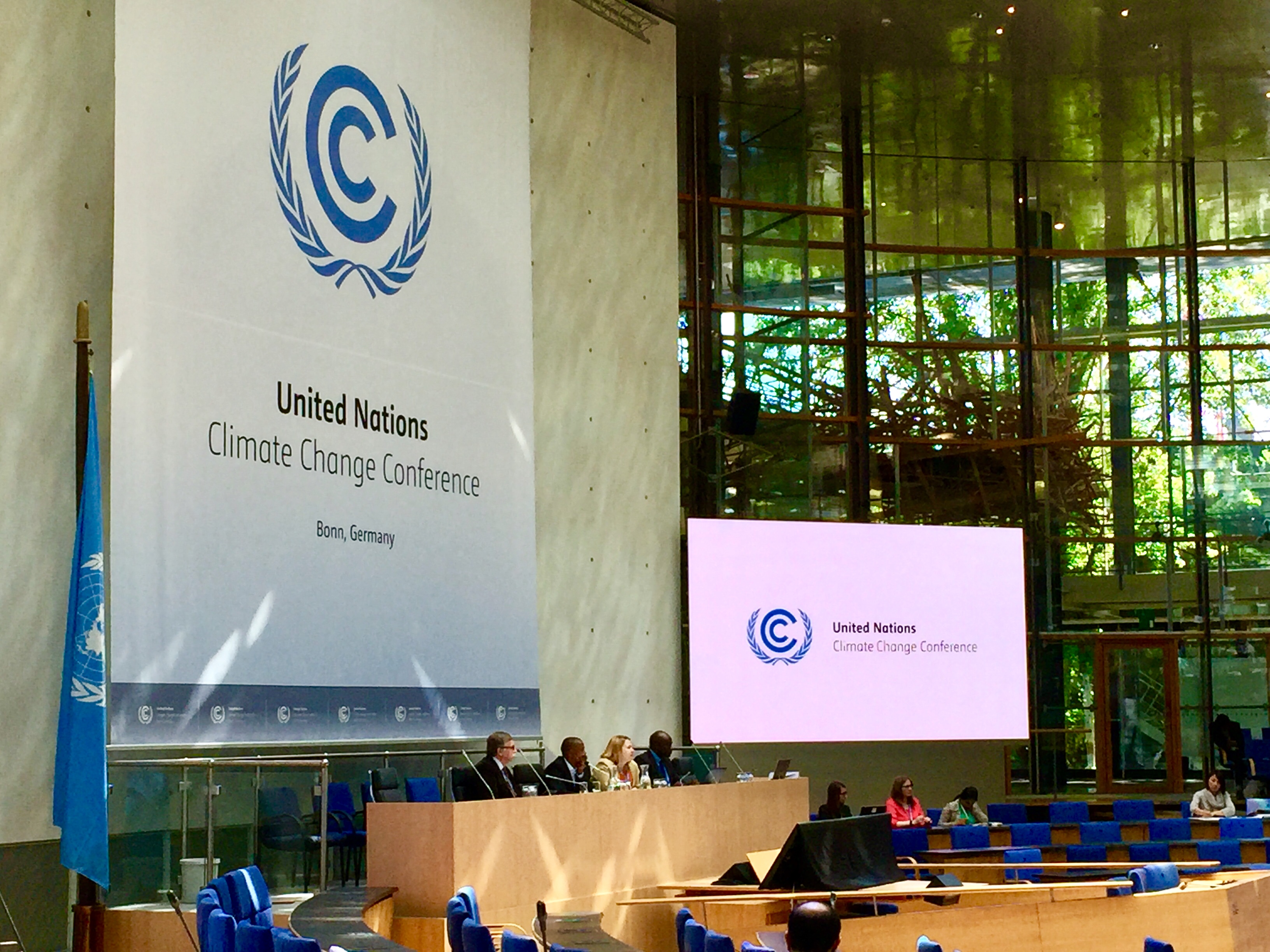 Thousands of country delegates, NGO representatives, citizens, researchers, and members of the private sector converged in Bonn, Germany for two weeks of meetings to advance global climate change negotiations, ending on May 10. While the annual international climate summit, called the Conference of the Parties or "COP," attracts greater media attention, "intersessionals" like the recent Bonn meetings, along with remote work throughout the year, are when parties do the real work to hash out the details of COP decisions.
The recent Bonn negotiations sought to advance progress on a "Paris Rulebook" which will set out guidelines for how countries should implement their pledges for climate action—known as "nationally determined contributions" (NDCs)—under the Paris Agreement. When the Paris Agreement was negotiated, countries largely expected it would enter force no earlier than 2020, leaving them several years to lay out the rules of the road for implementation. However, the Paris Agreement entered into force unexpectedly quickly in November 2016. This has in turn pressured parties to speed up production of implementation guidelines for their climate action pledges.  Parties have now set a deadline to produce the Paris Rulebook by the upcoming COP 24, to be held in December 2018 in Katowice, Poland.
The success of the Paris Agreement is closely intertwined with how effectively this rulebook drives implementation and ratchets up the near-term ambition of climate action. Current climate pledges under the Paris Agreement will deliver only 1/3 of the reductions needed to limit global average warming to the 2°C goal of the Paris Agreement. While the failure to achieve a robust rulebook would impact poor and particularly climate vulnerable countries most heavily, these countries typically stand at a disadvantage in the highly complex negotiating process under the United Nations Framework Convention on Climate Change (UNFCCC), lacking the teams of lawyers and experts that larger delegations can field to advance favorable outcomes.
Earlier this month, I attended the intercessional as part of the delegation from Legal Response International (LRI), a group which seeks to help level the legal playing field by connecting climate vulnerable developing countries and civil society organizations with a network of legal experts who provide hands-on assistance during the negotiations. The Sabin Center partnered with LRI to help provide pro bono legal support and access to legal experts during the recent intersessional. A range of substantive and procedural queries were received on such topics as financial flows to developing countries, market-based climate mitigation mechanisms under Article 6, and reporting requirements for countries' respective climate actions. These questions reflect some of the contentious issues that require further resolution before COP 24 in December.
At the closing sessions of the intersessional, parties noted a lack of sufficient progress on number of items related to finalizing a Paris Rulebook, including finance for developing countries and transparency frameworks for reporting countries' climate actions. While incremental progress was tracked in a series of "informal notes," (available on the UNFCCC website), no draft negotiating text is yet available. Co-chairs of the respective procedural bodies will now work to develop another round of notes which capture inputs from the meetings and propose a path forward. Efforts to develop the Paris Rulebook will resume at the next set of meetings to be held in Bangkok, Thailand in September.
Despite slow progress toward draft text, a number of side events highlighted opportunities to advance climate action through engagement of cities, states, the private sector, universities, and wider civil society. The convening of the Talanoa Dialogue, a new process meant to drive greater ambition through inclusive conversation provided a breath of fresh air, allowing representatives of countries, civil society, local & regional governments, international organizations, academia, and the private sector to share over 700 stories and build common ground for progress. While how exactly COP24 will harness this momentum to advance a robust outcome remains an open question, these activities illustrate some emerging pathways for progress.