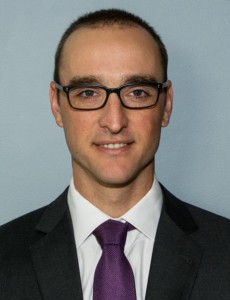 We are excited to announce that Justin Gundlach joined the Sabin Center last week as our 2015-2017 Climate Law Fellow. Justin's work at the Sabin Center will focus on climate change adaptation — that is, on how existing legal and regulatory tools can help push governments and private sector actors to consider effects of climate change when making decisions and investments. In addition, Justin will continue working on topics relating to energy use and the regulation of the electric grid, about which he has written extensively (visit his bio for list of publications).
Before starting at the Center, Justin worked as a staff attorney and clinical teaching fellow at the environmental section of Georgetown law school's Institute for Public Representation. In that role, he litigated in state and federal courts and filed amicus briefs with the Supreme Court in cases dealing with the Clean Air Act. That fellowship followed several years of private practice, which in turn followed an internship in the Energy & Climate Change Section of the White House Council on Environmental Quality.
Justin received an LL.M. from Georgetown with distinction in 2015 and a J.D., cum laude, from NYU School of Law in 2010. He is licensed to practice law in New York. You can reach him jmg2308@columbia.edu.