Jennifer M. Klein, Associate Director & Fellow, and Michael Burger, Executive Director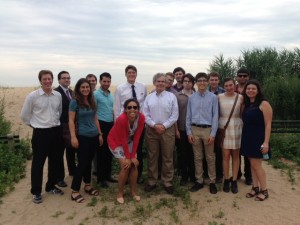 Earlier this week, the Sabin Center for Climate Change Law staff and our team of summer interns toured several sites on Staten Island where New York State is implementing innovative storm recovery measures. Staten Island was among the areas most devastated by Superstorm Sandy, and many neighborhoods are still recovering more than two years later. As residents work to rebuild, New York State is seeking to make the area less vulnerable to future flooding and storms. The Governor's Office of Storm Recovery (GOSR), whose attorneys and planners served as our hosts and tour guides for the day, is tasked with leading that effort.
GOSR manages New York State's voluntary Buyout & Acquisition Programs, through which the State purchases the properties of interested homeowners whose homes were substantially damaged or destroyed during Superstorm Sandy, Hurricane Irene, or Tropical Storm Lee. The Buyout & Acquisition Program is intended to improve the resiliency to flooding of communities on Staten Island and Long Island by transforming the sold land into wetlands, open space, or stormwater management systems. Alex Zablocki, the Staten Island Project Lead for GOSR's Community Reconstruction Program, lead us through the buyout area in Oakwood Beach, which was devastated during Sandy. We drove down streets lined with vacant houses and newly empty lots occupied by phragmites and other vegetation. The vast majority of the neighborhood has opted into the program. There are, however, a handful of holdout families. One of them – three generations, by the look of them – was busy building an above-ground pool as we drove by.
GOSR is also in charge of executing two groundbreaking projects funded by the Department of Housing and Urban Development's Rebuild by Design Competition, one in Long Island and one on Staten Island. The Staten Island project, Living Breakwaters, will build a chain of in-water structures spanning Staten Island's South Shore to introduce breakwaters and tidal flats, along with a reinforced on-shore dune (the snapshot above is in front of a temporary dune that will make way for a new one). The goal of the project is to dissipate wave energy and slow water along the Staten Island Coast to prevent flood damage during future storms. The project will undoubtedly change the nature of the beach, and of the beach experience, for the nearby residents of Tottenville. But, as Daniel Greene, GOSR's General Counsel, noted, the agency is sensitive to issues of public access, and the project seems to have broad local support.

The Living Breakwaters project was designed by SCAPE/Landscape Architecture PLLC, who joined the Sabin Center for a discussion on Tuesday morning about legal reforms to promote climate change adaptation. SCAPE's design also promotes the restoration of oyster beds, which will contribute to the creating of a natural coastal buffer. Gena Wirth, a design principal with the firm, explained how the Living Breakwaters project integrates social engagement and public education, ecological values and human infrastructure concerns into a more holistic conception of climate change resilience.
GOSR's programs to build climate change resiliency into a HUD-funded post-disaster reconstruction effort raise novel implementation questions for these types of federal recovery programs – as well as for environmental review under NEPA. They also represent an important next step in the process toward building resilient communities in Staten Island and throughout the country. Keep an eye on it – and if you know of other projects taking shape along these lines, please let us know!