by Justin Gundlach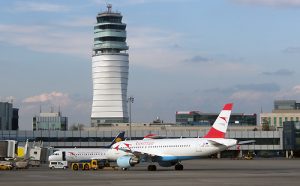 Plans for a third runway at the Vienna-Schwechat airport (pictured at right) were first submitted for review by the government of Lower Austria (one of Austria's 9 regions) in March 2007. This week, the Lower Austrian government's approval of those plans was struck down by Austria's Federal Administrative Court (Bundesverwaltungsgericht) on the grounds that authorizing the runway would do more harm to the public interest than good, primarily because it would be contrary to Austria's national and international obligations to mitigate the causes of climate change.
Before arriving at its decision, the court examined expected changes in future air traffic, the emissions impacts of those changes, and the extent to which it would be possible for the airport to control or otherwise limit various sources of emissions. It also considered the economic benefits of the additional runway, the adverse impacts of climate change on Austria, and the state of Austria and Europe's effort to reduce emissions generally and from air traffic in particular. After reviewing several estimates, the court concluded that a third runway would increase Austria's annual CO2 emissions by between 1.79 and 2.02% by 2025. This is at odds, the court noted, with Austria's 2020 transport sector emissions reduction target of 2.25%. The court also observed that short-term gains in the form of commerce or jobs were easily outweighed by the likely economic consequences of a destabilized climate.
The legal bases for the court's decision included domestic and international law. Environmental protection is a right embodied in Austria's constitution, in the constitution of the region of Lower Austria, and in the EU's Human Rights Charter. And Austria has articulated its climate change mitigation commitments both by ratifying the Paris Agreement and through its Climate Protection Law, which provides for a schedule of emissions reductions from 2015–2020 and beyond.
The parties have six weeks to appeal the decision to Austria's Constitutional Court.
The full text of the decision (in German) is available here.