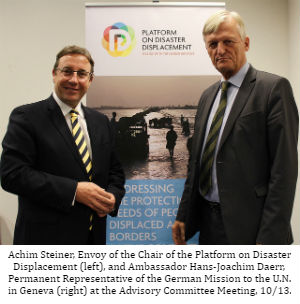 Jessica Wentz, Staff Attorney and Associate Research Scholar
Last week, I attended the Advisory Committee Workshop of the Platform on Disaster Displacement in Geneva. The Platform is the successor to the Nansen Initiative – a state-led global consultative process aimed at identifying effective practices and building consensus on normative standards for the protection of persons displaced across borders in the context of disasters and climate change. The Nansen Initiative culminated in the Nansen Protection Agenda, which was endorsed by 109 governmental delegations (including the U.S.) last year.
The Platform was created to follow up on the work started by the Nansen Initiative and to implement the recommendations of the Nansen Protection Agenda. It is governed by a Steering Group of states, currently directed by Germany; an Advisory Committee, which includes the Sabin Center as well as a variety of governmental, non-governmental, and academic stakeholders; and a Coordination Unit, which supports all aspects of the Platform's activities.
The goal of last week's Advisory Committee Workshop was to review the Platform's Strategic Framework 2016-2019 and accompanying workplan and develop ideas for activities and project proposals to support the implementation of the workplan. Our work was organized around four strategic priorities:
Addressing knowledge and data gaps on cross-border displacement;
Enhancing the use of identified best practices for preventing displacement in the country of origin and protecting those who are displaced across borders;
Promoting policy coherence and mainstreaming of human mobility challenges in and across relevant institutions and processes, such as the UN Human Rights Council, the International Organization for Migration, the United Nations Framework Convention on Climate Change, the Sendai Framework for Disaster Risk Reduction, and the New York Declaration for Refugees and Migrants.
Promoting policy and normative development at national and regional levels to address legal gaps in the protection of persons displaced across borders.