read and discuss
Wednesday, November 30, 2022
How can we move inductively from a practice of worker cooperatives and mutuals—from, in effect, practices of concrete utopias—to critical theories of "mutualism" and "cooperation"?
In these 13/13 seminars, we frequently debate the ways in which theory can guide praxis and praxis can inform critical theory. The relationship between the two is always heart and center. And it surely has been at the core of this year's seminars from our very first discussion of the critical foundations of concrete utopias with Étienne Balibar to the most recent conversation on the relationship between the writings of André Gorz and the praxis of degrowth.
Theory and praxis: the relationship resembles a double helix in an infinite Möbius loop—forever connected, intricately threaded, taking turns leading, inextricably linked. This week we turn the Möbius strip inside out to explore how practices of cooperatives and mutuals can inform the theory of mutualism and cooperation. Who better to explore these questions with than two brilliant mutualists and critical thinkers who have done just that: Sara Horowitz and Esteban Kelly.
Sara Horowitz founded a nonprofit in 1995, Working Today, which grew into the Freelancers Union, headquartered in New York City, that provides support, resources, and benefits, including insurance policies, for freelance workers. Building on that experience, Sara Horowitz has continued to organize forms of mutual support, founding another insurance start-up for independent workers, and has developed a theory of "mutualism" that she spells out in her new book Mutualism: Building the Next Economy from the Ground Up (Random House, 2021).
Esteban Kelly is a founding board member of the U.S. Solidarity Economy Network and the executive director of the U.S. Federation of Worker Cooperatives, having been at the heart of the cooperative movement in this country for years. He co-founded and is a worker-owner of AORTA (Anti-Oppression Resource & Training Alliance), a worker co-op that builds capacity for social justice movements and projects through intersectional training, consulting and facilitation. Building on those foundational practices, Esteban Kelly spells out his vision for a democratic solidarity economy in writings including Future Horizons: Visions toward Democratizing Our Economy.
In their writings and practice, Horowitz and Kelly draw on models from around the world. Horowitz writes movingly about her visit to the Emilia-Romagna province in northern Italy near Bologna, which is a hub of cooperative networks, with thousands of interrelated cooperatives of all kinds, including consumer, worker, agricultural, and housing cooperatives. Melissa Hoover and Esteban Kelly also return to Northern Italy's Reggio Emilia, as a model for innovative educational practices, as well as "cooperative 'guilds' of freelancers in Belgium and France," women's collective self-employment associations in India, and the worker cooperatives in Argentina and Spain. These formations—which we find throughout the world and across historical periods—form the theoretical foundations of their work on mutualist and cooperativist theory and practice.
Their writings raise important questions about the role of capital, issues of race and racial capitalism, the use of the term "mutualism," and the relation between mutualism and other forms of political economy, such as socialism and capitalism. These are some of the many questions we address in this seminar on the "praxis and theory of mutualism."
Welcome to Utopia 5/13!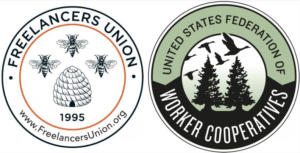 [To read the full introduction, click here]