By Daniel J. Metzger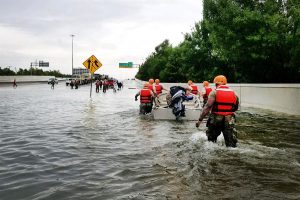 Climate change attribution science provides the evidentiary basis for establishing that anthropogenic climate change is real, that it is already here, and that predicted future changes must be taken seriously. Faced with this growing body of research, courts, policy-makers, and private actors are addressing critical and urgent legal questions, such as whether governments are doing enough to reduce emissions and adapt to climate risks, and whether corporations can be held liable for their contributions to the problem. 
Today the Sabin Center and Lamont-Doherty Earth Observatory are launching the Climate Attribution Database, a thematically organized repository of state-of-the-art climate change attribution science.
Several years ago, Sabin Center executive director Michael Burger and senior fellow Jessica Wentz teamed up with Radley Horton, a climate scientist and research professor at the Lamont-Doherty Earth Observatory, to assess the state-of-the-art in attribution science and investigate how this field is shaping discussions about legal rights and obligations pertaining to climate change. Their work thus far has confirmed several key conclusions that support legal and policy decision making: 
Observed physical impacts—such as sea level rise, melting permafrost, and ocean acidification—can be attributed to anthropogenic climate change with high confidence. 

The existing body of detection and attribution research is sufficiently robust to support the fair adjudication of numerous questions. 

Climate change impacts can be attributed to specific emission sources on a proportional basis. 
This project has already produced an article providing a comprehensive overview of attribution research and its application in legal settings: The Law and Science of Climate Change Attribution, published by the Columbia Journal of Environmental Law. The Climate Attribution Database builds on this work by creating a regularly updated source for the best available science, practically organized into key categories. The database will support scientists interested in understanding how their work might fit into law and policy applications, lawyers working to understand how existing and cutting edge science may support or undermine their cases or defenses, and policy practitioners looking for resources to support climate mitigation and adaptation policies. 
The Climate Attribution Database already catalogs over two hundred scientific resources and will be regularly updated as new research and resources become available. If you have questions about or inputs for the Climate Attribution Database please send a message to cliamteattribution@law.columbia.edu. 
The Sabin Center compiles and maintains multiple databases and other resources—both on its own and in collaboration with other institutions—to facilitate access to the latest information, law, and scholarship on particular climate change-related topics. With today's addition of the Climate Attribution Database, the Sabin Center actively maintains a total of nine databases and trackers, all of which are publicly available here.