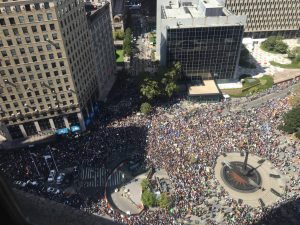 Governmental officials, concerned citizens, and experts will gather this week to mobilize climate action during the United Nation's Secretary General's Climate Action Summit and Climate Week NYC.  Millions around the world are expected to demand urgent action ahead of these events  in climate strikes inspired by Swedish teenage activist Greta Thunberg. As conversations unfold on how to take immediate action to reduce global greenhouse gas emissions and increase adaptive capacity worldwide, we should consider climate-induced migration. Hurricane Dorian, which devastated the Bahamas this month, demonstrates the importance of addressing displacement, as climate change intensifies the frequency and severity of disasters. A new Sabin Center white paper recommends Free Movement Agreements (FMAs) as a climate-induced migration solution given that no comprehensive governance framework for climate-induced migration yet exists.
FMAs are provisions within (sub-)regional economic integration schemes that liberalize migration restrictions between participating member states.  The European Union is the most common example, but approximately 120 countries worldwide participate in FMAs. Two Caribbean FMAs within the Caribbean Community (CARICOM) and Organisation of Eastern Caribbean States (OECS) provided rights of entry, work, and resettlement to Caribbean nationals displaced during the 2017 Atlantic Hurricane Season.  The Sabin Center report provides a case study of the Caribbean to show how FMAs can close the protection gap for climate-induced migration in other contexts.
Key Report Findings Include:
During the 2017 Atlantic Hurricane Season, the CARICOM and OECS FMAs:
Provided disaster displaced persons a right of entry in other islands;

After Hurricane Maria, Trinidad & Tobago used the CARICOM FMA's 6-month visa-free stay provision to shelter displaced Dominicans.
The Antigua, St. Vincent, Grenada and St. Lucia governments welcomed Dominicans, making use of the OECS FMA.

Supported the waiver of travel document requirements where documents had been lost or damaged;

Immigration officials admitted Dominicans in some cases without the national identification documents, including passports, that are typically required.
Government officials used other forms of identification, including appearance, accent, and family networks, while prioritizing 100% admission of arriving Dominican nationals, and speed of registration and entry.

Granted indefinite stays to some disaster displaced persons, facilitating permanent resettlement;

The OECS FMA provides every OECS national the right to an indefinite stay in other OECS territories which allowed disaster displaced OECS nationals to legally resettle.

Eased access to foreign labor markets through a mutual recognition of skills scheme and/or a waiver of work permit requirements;

Some displaced CARICOM nationals were able to secure work in other CARICOM islands using CARICOM's work scheme for skilled nationals.
OECS automatically grants the right to work to OECS nationals in any OECS territory, allowing displaced OECS nationals to seek work in other islands.
FMAs should be part of the policy response to climate-induced migration in other regional contexts because they:
Respond to the complex and regional nature of climate-induced migration, offering migration benefits regardless of whether migrants are moving for climate-specific reasons;
Build structural and individual resilience thereby strengthening migration as an adaptation response; and
Can be amended to address climate-induced migration without expending the political capital necessary for global multilateral initiatives.
Read the executive summary and full report here.