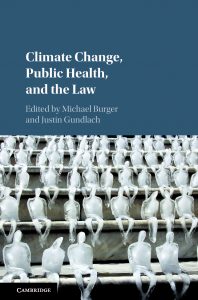 by Michael Burger
Today is "pub day" for Climate Change, Public Health, and the Law, a new volume I conceptualized, developed and edited with former Sabin Center Senior Fellow Justin Gundlach (now at the New York State Energy Research and Development Authority). The volume draws on contributions from leading legal scholars and public health practitioners to provide the first comprehensive mapping of the interactions among climate change, public health law, and environmental law, and a clear articulation of the legal components of pursuing public health goals in the midst of a changing climate. Written for an audience of public health and environmental law professionals, policymakers and researchers in the United States and in the international public health sector, the book is intended to facilitate efforts to develop, improve, and carry out policy responses at all levels of governance.
We are deeply honored to bring the profound thinking and extensive research of our contributors together in one place, including a foreword and call to action from former EPA Administrator Gina McCarthy, who now serves as Director of the Center for Climate, Health, and the Global Environment at Harvard University. Taken together, our book offers a kaleidoscopic view of how the law makes sense of and responds to the impacts of climate change on public health. The first part lays the foundation, setting out information about legal rights, public health impacts and the public health sector's frameworks for response. The second part considers cross-cutting issues that arise both from the public health impacts of climate change and responses to those impacts in key contexts: government speech and regulation of information, surveillance, and the built environment. The third part of the book focuses on particular impacts and sectors where those impacts are felt, and also considers the responses those impacts prompt (or ought to). These include heat, sea level rise and extreme coastal events, infectious disease, food systems, and displacement and migration. The last part of the book covers the dynamic relationship betweenclimate change, public health, and environmental law and regulation – first in the international context, then in the domestic one.
The relationships charted throughout Climate Change, Public Health, and the Law are tangled, complex, and rife with gaps as well as content. Justin and I struggled to draw definitive conclusions from the diverse array of climate risks forcing new and various responses in the multiplicity of law and policy settings covered in the book. But the problems climate change presents for the community of lawyers, policy professionals, medical professionals, academics, researchers, and others engaged in public health practice demand creative responses. Ultimately, each chapter in the book provides not only a theoretical context and conceptual information but also a set of practical recommendations for carrying this critical work forward.
With special thanks to our contributors: Jill Krueger and Colleen Healy Boufides (Network for Public Health Law); David Vladeck (Georgetown); Jason Smith and Chandra Ganesh (Cal. State University – East Bay); Jennifer Klein (Kramer Levin Naftalis & Frankel); Sara Hoverter (Georgetown); Robin Kundis Craig (Utah); Lindsay Wiley (American); Margot Pollans (Pace); Maxine Burkett (Hawaii); William Onzivu (World Health Organization, Bradford (UK)); and Jessica Wentz (Columbia).
The book should soon be available through university and public libraries, and is available now in electronic and print editions through Cambridge University Press, Amazon, B&Nand elsewhere.