By Dena Adler
Donald Trump claims to have delivered on deregulation in his first year as President. While independent reporting questions the veracity of his assertions, climate change is one arena where the Trump Administration's regulatory rollbacks have been both visible and real. The Administration has delayed and initiated the reversal of rules that reduce greenhouse gas (GHG) emissions from stationary and mobile sources; sought to expedite fossil fuel development, including in previously protected areas; delayed or reversed energy efficiency standards; undermined consideration of climate change in environmental review; and hindered adaptation to the impacts of climate change. In total, the Sabin Center's U.S. Climate Deregulation Tracker identifies a total of 64 actions taken by the executive branch in 2017 to deregulate climate change. These actions correspond to at least two dozen climate-related protections. However, the Trump Administration's efforts have met with constant resistance, with those committed to climate protections bringing legal challenges to many, if not most, of the rollbacks.
U.S. Climate Change Litigation in the Age of Trump: Year One—a new Sabin Center working paper—seeks to give shape to the current moment in climate change litigation, categorizing and reviewing dozens of climate change cases filed during 2017 to understand how litigation countered—and at times courted—the influx of climate change deregulation during the first year of the Trump Administration. (An Executive Summary is also available.) The analysis focuses specifically on 82 "climate change cases," defined as cases that raise climate change as an issue of fact or law. To explain the effects of climate change litigation in 2017, this paper sorted cases into five categories:
Defending Obama Administration Climate Change Policies & Decisions;
Demanding Transparency & Scientific Integrity from the Trump Administration;
Integrating Consideration of Climate Change into Environmental Review & Permitting;
Advancing or Enforcing Additional Climate Protections through the Courts; and
Deregulating Climate Change, Undermining Climate Protections, or Targeting Climate Protection Supporters.
The first four categories are "pro" climate protection cases—if their plaintiffs or petitioners are successful they will uphold or advance climate change protections. The fifth category contains "con" cases—if their filing party or parties are successful, these cases will undermine climate protection or support climate policy deregulation. Sixty of the reviewed cases were pro climate protection and twenty-two were con. The pro cases outweigh the con cases roughly 3:1 (73% to 27%).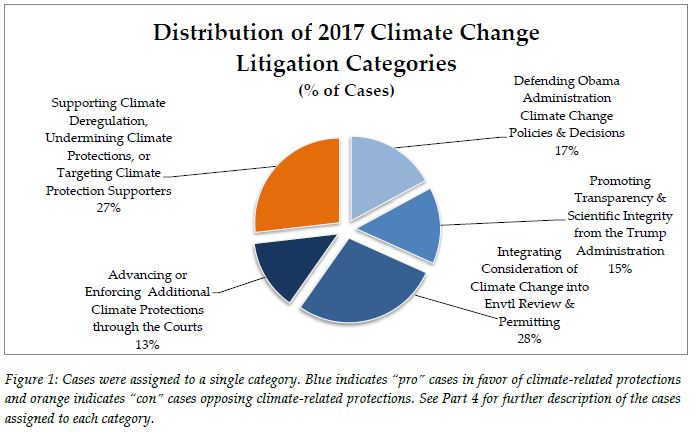 To understand how federal climate change litigation is shaping national climate policy in the absence of federal leadership, U.S. Climate Change Litigation in the Age of Trump looks across and within these litigation categories to further examine: 1) who are the litigants, 2) what laws are they utilizing, and 3) how far have these cases progressed in year one of the Trump Administration.  See the Executive Summary and Full Report for the results.