New York's 2014 Community Risk and Resiliency Act (CRRA) instructs the Department of State and the Department of Environmental Conservation to create model local laws that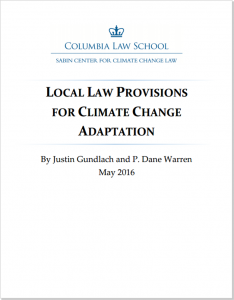 local governments can use in developing and implementing climate change adaptation policies related to sea level rise and flood risk. The Sabin Center's new resource, Local Law Provisions for Climate Change Adaptation, complements the state agencies' ongoing efforts by compiling existing provisions of state and local laws—and suggesting some new ones—that can help local governments looking to adapt effectively to these climate impacts. The provisions are broadly divided into the categories of Permitting Review, Targeted Development Restrictions and Prudent Development, and Shoreline Protection/Armoring. They codify a host of policies, ranging from giving due consideration to sea level rise to imposing setbacks on development approvals to creating transferable development rights schemes that support adaptive reconfigurations of existing and planned structures.
Publication of the state-authored model local laws document is expected later this year.