by Michael Burger and Justin Gundlach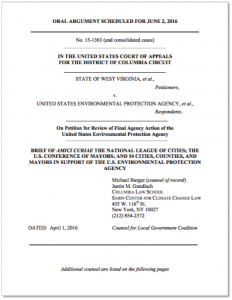 This morning the Sabin Center filed an amicus brief in support of EPA's Clean Power Plan on behalf of a coalition of local government representatives including the National League of Cities, the U.S. Conference of Mayors, and 54 U.S. cities, counties, and mayors. (Check the end of the post for a complete list of  "Local Government Coalition" members). The brief is available here.
As America's "first responders" to climate change local governments have a unique and critical perspective on the need for immediate and ambitious climate action: they are experiencing and adapting to climate impacts, including sea level rise, heat waves, and floods; and they are at the forefront of efforts to reduce the anthropogenic emissions of greenhouse gases. EPA's Clean Power Plan, which targets the existing power plants that are America's largest source of greenhouse gas emissions, would achieve a 32 percent reduction in greenhouse gas emissions from 2005 levels by 2030. The state and industry challengers to the Plan, by contrast, posit an interpretation of the Clean Air Act which would either achieve a 0 percent reduction—because it would bar EPA from regulating GHGs from existing power plants altogether—or else something in the single digits. From the cities' vantage point, it is obvious that EPA's interpretation is both the preferred course of action, and a reasonable interpretation of the Clean Air Act. The Clean Power Plan would greatly aid their individual efforts to address the changing climate. Should it be rejected, those efforts would be made more expensive and less likely to succeed.
The amicus brief, tells the stories of Local Government Coalition members' exposures to climate impacts, their adaptation efforts, and their clean energy initiatives. It also presents a straightforward but essential point on statutory interpretation: Courts and agencies must interpret statutes to make them effective. The Clean Power Plan takes Section 111(d) of the Clean Air Act and reads it in a way to achieve substantial but cost-effective GHG reductions from existing power plants. The opponents to the plan would, in essence, gut the provision of the Act, either eliminating or else severely restricting its power to help protect public health and welfare. EPA's interpretation gives effect to the animating purposes of the Clean Air Act. The opponents' does not.
You can read our press release, which provides quotes from local leaders across the country who describe some of the connections between EPA's Clean Power Plan and the climate risks local governments face, the need for and benefits of greater investments in energy efficiency and renewable energy sources, and the need for continued U.S. leadership as the world begins to implement the Paris climate agreement.
Other filings in the case, West Virginia et al. v. EPA, are accessible via the Sabin Center's Climate Change Litigation Chart and the Environmental Defense Fund's Clean Power Plan Case Resources page.
The Local Government Coalition's city, county and mayoral members include: Ann Arbor, Michigan; Arlington County, Virginia; Aurora, Illinois; Baltimore, Maryland; Bellingham, Washington; Berkeley, California; Bloomington, Indiana; Boise, Idaho; Boston, Massachusetts; Boulder County, Colorado; Carmel, Indiana; Clarkston, Georgia; Coral Gables, Florida; Cutler Bay, Florida; Elgin, Illinois; Eugene, Oregon; Evanston, Illinois; Fort Collins, Colorado; Grand Rapids, Michigan; Henderson, Nevada; Highland Park, Illinois; Hoboken, New Jersey; Houston, Texas; Jersey City, New Jersey; King County, Washington; Los Angeles, California; Madison, Wisconsin; Miami, Florida; Miami Beach, Florida; Milwaukie, Oregon; Minneapolis, Minnesota; Missoula, Montana; Newburgh Heights, Ohio; Oakland, California; Pinecrest, Florida; Pittsburgh, Pennsylvania; Portland, Maine; Portland, Oregon; Providence, Rhode Island; Reno, Nevada; Rochester, New York; Salt Lake City, Utah; San Francisco, California; Tucson, Arizona; Washburn, Wisconsin; West Chester, Pennsylvania; West Hollywood, California; West Palm Beach, Florida; and the Mayors of Dallas, Texas, Knoxville, Tennessee, and Orlando, Florida.